April 10 marks 41st anniversary of the signing of the Tomos on Autocephaly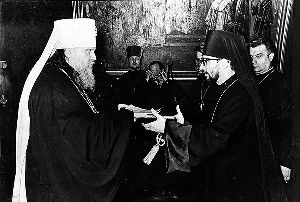 April 10, 2011 marks the 41st anniversary of the signing of the Tomos of Autocephaly by the Holy Synod of the Russian Orthodox Church.
Two weeks earlier, on March 31, 1970, the agreement upon which the Tomos was based.was signed by the Russian Orthodox Church and the Russian Orthodox Greek Catholic Church of America—known since October 1970 as the Orthodox Church in America.
The text of the Tomos is posted on the OCA web site, while the text of the agreement appears at here on the web site.
On May 18, 1970, an official delegation from the fledgling OCA traveled to Moscow to receive the Tomos. A solemn ceremony, during which the formal presentation of the Tomos to the OCA delegation took place, was held on May 18. On behalf of the Russian Orthodox Church, Metropolitan Pimen of Krutitsy and Kolomna, patriarchal locum tenens, presented the Tomos to the head of the OCA delegation, His Grace, Bishop Theodosius of Sitka and Alaska. Other members of the OCA delegation were Archpriests Daniel Hubiak, John Nehrebecki, John Skvir, and John Turkevich; Prof. Constantine Kallaur; and Mr. Stephen Kopestonsky. The US Ambassador to Moscow, Jacob Beam, also attended the ceremony.
For an informative photo essay on the OCA's autocephaly, visit https://www.oca.org/media/photos?EID=926.