Belarusian cleric visits OCA Chancery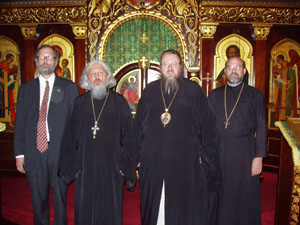 On Thursday, July 15, 2010, His Beatitude, Metropolitan Jonah received Archpriest Siarhei Hardun of Minsk, Belarus at his official residence here.
Father Siarhei was visiting the US for some three weeks at the invitation of the Presbyterian Church USA to participate in that denomination's General Assembly as an ecumenical advisory delegate. He delivered stirring brief remarks during a plenary session of the gathering.
During his visit with Metropolitan Jonah, Father Siarhei conveyed the greetings of His Eminence, Metropolitan Filaret of Minsk and Slutsk, Patriarchal Exarch of All Belarus, and relayed an invitation for Metropolitan Jonah to visit Belarus. Father Siarhei also provided interesting information on Church life in Belarus. Visiting Metropolitan Jonah on the last day of his US visit, Father Siarhei expressed great appreciation for the opportunities provided by his US visit with the hope that relations of the Orthodox Churches in America and Belarus might be further developed. Metropolitan Jonah expressed his thanks for the invitation to Belarus and expressed his warmest greetings to Metropolitan Filaret.

During his US visit, Father Siarhei also had the opportunity to visit and participate in the liturgical life of several OCA and other Orthodox communities.
As a faculty member of the Minsk Theological Seminary/Academy, located at the historic Zhirovichi Monastery, and the Saints Cyril and Methodius Theological Institute of Belarus State University, Father Siarhei also visited the Saint Tikhon's Seminary, South Canaan, PA, and Saint Vladimir's Seminary, Crestwood, NY, where he discussed possible avenues of cooperation with Archpriest Alexander Atty, Dean of Saint Tikhon's, and Archpriest Chad Hatfield, Chancellor of Saint Vladimir's.
— Alexis Liberovsky, OCA Archivist