Metropolitan Jonah welcomes Patriarchal Archbishop Justinian, Russian Ambassador, to St. Nicholas Cathedral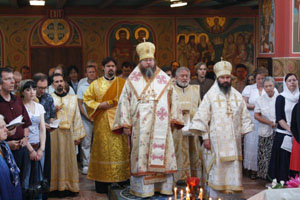 Metropolitan Jonah and Archbishop Justinian concelebrate the Divine Liturgy.
WASHINGTON, DC [OCA]—His Beatitude, Metropolitan Jonah and His Eminence, Archbishop Justinian of Naro-Fominsk, Administrator of the Patriarchal Parishes in the USA, concelebrated the Divine Liturgy at Saint Nicholas Cathedral here on Sunday, 20 June 2010.
The Liturgy marked Archbishop Justinian's first visit to the cathedral.
Metropolitan Jonah also welcomed the Ambassador of the Russian Federation to the US, His Excellency, Sergei Kislyak, who greeted the congregation. Accompanying Ambassador Kislyak was Dr. Vyacheslav Moshkalo, Cultural Attache for the Russian Embassy in the US capital.
According to a press release posted on the web site of the Patriarchal Parishes in the USA—russianchurchusa.org—the occasion testified to "the most warm and cordial relations between the Orthodox Churches in America and Russia [that] have developed and strengthened for the benefit of the peoples of both countries."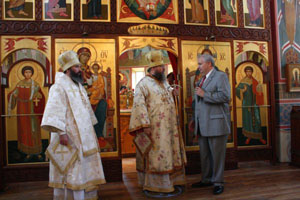 Metropolitan Jonah welcomes His Excellency, Sergei Kislyak, Ambassador of the Russian Federation to the US, to Saint Nicholas Cathedral.
At the conclusion of the Divine Liturgy, the hierarchs exchanged gifts, while Archbishop Justinian offered greetings from His Holiness, Patriarch Kirill of Moscow and All Rus, expressing the Patriarch's brotherly support for Metropolitan Jonah's position as Primate of the Orthodox Church in America. He also congratulated Metropolitan Jonah on the feast of Saint Jonah of Moscow, the Metropolitan's patron.
Metropolitan Jonah hosted Archbishop Justinian at the festive luncheon that followed in the cathedral hall.