OCA Bulgarian Diocese holds Fourth Congress-Sobor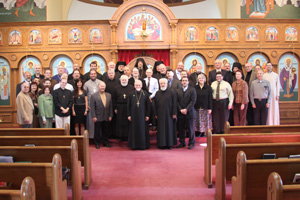 Bulgarian Diocese Fourth Congress-Sobor November 12-13, 2010
ROSSFORD, OH [OCA/Bulgarian Diocese]—Clergy and lay delegates and observers from parishes of the Orthodox Church in America's Toledo-based Bulgarian Diocese held their Fourth Diocesan Congress-Sobor at Saint George Cathedral here November 12-13, 2010.
"The cathedral parish and its dean, Archpriest Paul Gassios, hosted the gathering, only the fourth in the diocese's 47 year history," according to Priest Matthew-Peter Butrie.
The Congress-Sobor opened with the celebration of Great Vespers by Father Paul on Friday evening, November 12, the eve of the feast of Saint John Chrysostom. Priestmonk Calinic (Berger) of the OCA's Romanian Episcopate led the attendees in a retreat following Vespers.
His Grace, Bishop Melchisedek of Pittsburgh and Western Pennsylvania, Locum Tenens of the Bulgarian Diocese, presided at the celebration of the Divine Liturgy the following morning, with Protodeacon Michael Myers of Saint Nicholas Church, Fort Wayne, IN, serving as deacon. Following the Liturgy, a brunch was held in the cathedral hall.
The business session of the Congress-Sobor followed immediately. Archpriest Don A. Freude, as Chancellor, senior priest and head of the Diocesan Spiritual Council, chaired the session. The Diocesan Spiritual Council then nominated Attorney Damian Gosheff, a member of the Diocesan Constitutional Committee, as interim chair.
"The main item on the agenda was the approval of an amended Diocesan Constitution, which was adopted by an overwhelming majority," Father Matthew-Peter reported. "The next item on the agenda was the presentation by Archpriest Andrew Jarmus, Coordinator of the Diocesan Episcopal Search Committee, who stated that the committee had hoped that the delegates would have been able to vote on a nominee for Diocesan Bishop at this meeting. However, due to logistical issues and in order to allow for sufficient time for the members of the Diocese to get to know the candidates, the Diocesan Spiritual Council decided to postpone the balloting for an episcopal nominee by holding the Fifth Congress-Sobor at the time of the 48th diocesan conference, which will be hosted by Saint Nicholas Church, Fort Wayne, IN.
"Father Andrew detailed the timeline and work that has been done by the committee to date," Father Matthew-Peter added. "Following Father Andrew's presentation, the delegates unanimously voted to approve the work of the episcopal search committee."
The Congress-Sobor was adjourned with prayer by Bishop Melchisedek.
The Bulgarian Diocese includes 19 parishes and missions and one monastery in the US and Canada.