OCA Parish Ministry Conference, Young Adults Rally, Attracts Over 160 Participants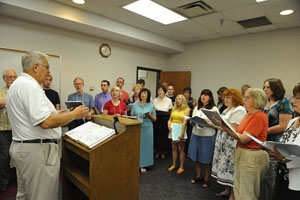 Over 160 individuals from as far as Massachusetts and California gathered on the campus of Baldwin-Wallace College here from Sunday evening, June 27, 2010 through Wednesday afternoon, June 30 for the Orthodox Church in America's Parish Ministries Conference and Young Adult Rally.
The conference and rally—the first of its kind to be hosted by the OCA in several years and the largest to date—was sponsored by the OCA's Departments of Christian Education, Liturgical Music and Translations, and Youth, Young Adult and Campus Ministry in cooperation with the Diocese of the Midwest's Parish Health Ministry.
The conference theme—"Equipping the Saints," based on Ephesians 4:11-16—was explored through two dozen intensive workshops in three broad tracks—Living an Orthodox Life, Building Vibrant Parishes, and Liturgical Music. A fourth track was geared to the dozens of college students and young adults who were present.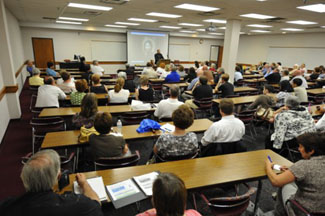 Archpriest Alexander Garklavs, OCA Chancellor, opened the conference on Sunday evening with the celebration of a Service of Thanksgiving, after which the participants received the blessing of His Grace, Bishop Melchisedek of Pittsburgh and Western Pennsylvania. After his welcoming remarks, Father Alexander introduced the evening's speaker, Archpriest John Matusiak, who introduced the theme. He stressed that the call to ministry is common to all Christians, clergy and laity alike, and a participation in and extension of Christ's ministry of teaching, preaching, and healing. He noted four essential aspects of ministry—worship, fellowship, discipleship, and stewardship—relating them to the essential relationship individual Christians and communities must strive to build and maintain with God and His People. Whatever one does, he concluded, must be done with the intention of revealing Jesus Christ as the Son of the Living God, Who came to call all to repentance and to embrace His Kingdom, yet to be fully revealed but already fully present in the life of the Church and in the midst of His People.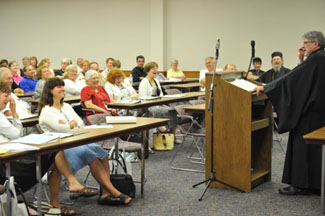 His Beatitude, Metropolitan Jonah echoed these points and further developed the theme in his address, "Discerning Spiritual Gifts." He emphasized how God provides His People with the gifts necessary for building up His Body, the Church. Communal life always centers on relations and the needs of the community, rather than on personal needs or wants. He challenged the participants to discern their spiritual gifts and to return to their parishes with a renewed spirit of commitment to minister to others, particularly those who have yet to embrace the fullness of the faith.
Metropolitan Jonah and Bishop Melchisedek led the participants in worship at Monday evening's All-Night Vigil for the Feast of Saints Peter and Paul at Saint Innocent Church, Olmsted Falls, OH, and concelebrated the festal Divine Liturgy the following morning. Relics of Saints Peter and Paul, brought to Saint Innocent's by Archpriest Basil Stoyka of Saints Peter and Paul Church, Lorain, OH, were available for veneration by conference participants. Two choirs, under the direction of Prof. David Drillock and Mark Bailey, and composed of participants in the liturgical music track, led the congregation in singing the responses. Archpriest Michael Butler and the faithful of Saint Innocent's were a model of fellowship in extending hospitality at receptions following both services.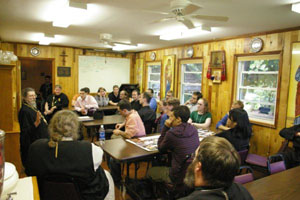 Young adult participants enjoyed a visit to Saint John Monastery, Hiram, OH, during which Archimandrite Alexander and Father Daniel spoke about monastic life and offered a tour of the monastery church, chapel, cemetery, and grounds. Metropolitan Jonah and Bishop Melchisedek addressed the young adults, who that evening enjoyed an outdoor cookout. Archpriest John Behr, Dean of Saint Vladimir's Seminary, was among those who offered presentations specifically geared to the important place young adults play in the life of the Church.
Displays of Church School materials were available throughout the conference, representing resources available from the OCA Department of Christian Education, the Orthodox Christian Education Commission, the Greek Orthodox Archdiocese's Department of Religious Education, and other sources. John Maddex, CEO of Conciliar Press Ministries, offered a wealth of books from Conciliar Press.
"I was struck by a number of things from the conference," observed a participant from Cincinnati, OH. "First, the conference was consistently punctuated with laughter—not polite or nervous laughter, but real, enthusiastic, "big smile" laughter. Second, there was a wide array of presentation styles employed by the presenters. Yes, there was plenty of PowerPoint - but attendees were treated to a variety of presentation personalities and styles. This, I think, really helped maintain our interest and foster engagement."
The following workshops were presented.
Track 1: Living an Orthodox Life.
"Male and Female He Created Them." Father John Behr explained the Church's understanding of human existence and relations between the sexes in the today's world.
"Youth in Crisis." Matushkas Myra Kovalak and Alexandra Safchuk identified issues young people face, shared insights into recognizing depression and the warning signs for suicide, and offered concrete ideas for ministering to young people in times of grief.
"Abortion: The Discussion, the Tragedy, the Alternatives." Daria Petrykowski and a panel that included a board member of ZOE for Life, a high school counselor, and a priest on the board of a pregnancy center, offered insights rooted in Scripture and Holy Tradition.
"Being Disciples by Making Disciples." Kenneth Kidd of the Orthodox Christian Mission Center spoke on the many international mission ministries currently being pursued.
"The Welcoming Parish." Veronica Bilas, Maria Proch, and Jewelann tefanar shared a variety of insights into issues spanning ministry to those with exceptionaliaties to the aging and the infirm.
"Meeting Muslims." Matushka Valerie Zahirsky offered insights into revealing the faith in a multi-faith world.
"Thinking Outside the Box." Father John Matusiak shared insights how the ministry of Jesus Christ and the Gospel He embodied are by nature "outside the box," and how boxing up and compartmentalizing our faith is the real problem to be avoided, whether in a religious education program or the overall life of a parish.
Track 2: Building Vibrant Parishes.
"Good Practices of Vibrant Orthodox Parishes." Joseph Kormos outlined a framework for parish renewal and vitalization.
"A Model for Charitable Outreach." Charles Robbins shared ideas for ministering to "Lazarus at our doorstep," based on his experience with the outreach ministry of Saint Gregory of Nyssa Church, Columbus, OH.
"Lay Catechists in the Parish." Anna Strelka shared her experience as a parish lay catechist and emphasized the need to expand catechesis not only among those who are preparing to enter the Church, but with everyone.
"Improving Parish Youth Formation." Alexa Geeza offered a wealth of ideas for planting and maintaining an Orthodox Christian identity through youth ministry, multi-generational ministry, and genuine love.
"Stewardship." Father Gregory Jensen offered a comprehensive overview of and practical suggestions for initiating and expanding parish stewardship ministries.
"Establishing a Spirit of Mission through a Healthy Parish Council." Ann Marie Mecera shared a vision of the parish council that reflects the Church's overall ministry.
"Assimilation and Integration." Father John Matusiak and Alexa Geeza shared insights into incorporating and retaining "newcomers" into the life of the parish.
"Getting Ready for Inquirers." Edith Roberts reviewed questions and concerns commonly expressed by enquirers and offered practical ideas for sharing the faith.
Track 3: Liturgical Music.
Prof. David Drillock led workshops on "Fundamentals of Choral Conducting" and "Learning the Church Tones."
Mark Bailey offered workshops on "Advanced Choral Conducting" and "Composition I and II."
Vladimir Morosan presented workshops on "Styles and Techniques of Reading the Epistle," "Essential Elements of Good Vocal Production," and "Essentials of Music Literacy."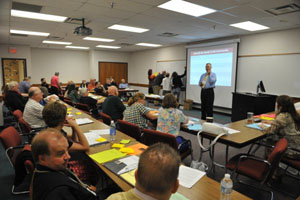 On the closing day, participants in the composition workshops debuted their original works to the conference participants at a special mini-concert.
Special recognition is due to Father Alexander Garklavs, Chancellor, and the members of the conference planning committee, representing the aforementioned OCA departments, who worked tirelessly for nearly one year to organize the gathering: Protodeacon Joseph Matusiak, Prof. David Drillock, Daria Petrykowski, Matushka Alexandra Safchuk, Matushka Valerie Zahirsky, and Joseph Kormos.
Additional photos from Conference.