Prayers requested for hospitalized Bishop Irénée of Quebec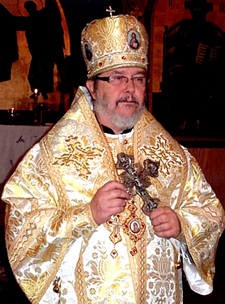 MONTREAL, QC, CANADA [OCA]—Prayers are requested for His Grace, Bishop Irénée of Québec City, Administrator of the Archdiocese of Canada of the Orthodox Church in America, who was rushed to a Joliet, QC hospital after suffering a heart attack on Friday, January 7, 2011.
According to Igumen Alexander [Pihach], Archdiocesan Chancellor, "there is some damage to his heart, [but] blockages were removed. He will need time to recover and will not be traveling or visiting parishes in the immediate future."
As of Saturday, January 8, it was reported that Bishop Irénée remains in intensive care, but that his condition is stable and improving. He is expected to be transferred to a cardiac unit in the same hospital within days.
Bishop Irénée has served as Archdiocesan Administrator since his appointment by the Holy Synod of Bishops on Novemer 30, 2010.