Video of Bishop Jonah's responses to questions at 15th All-American Council now available on OCA.org web site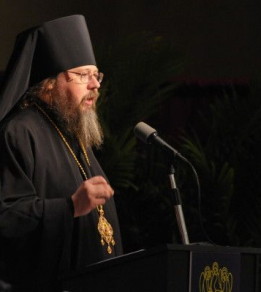 On the evening of Monday, November 10, 2008, at the opening plenary session of the OCA's 15th All-American Council in Pittsburgh, PA, delegates presented written questions to the Holy Synod of Bishops concerning the crisis in which the Church had been mired over the past several years. A number of questions were addressed that evening but the remainder were to be answered later during the Council. His Grace, Bishop Jonah of Fort Worth was selected by the members of the Holy Synod to respond on their behalf. On Tuesday evening, November 11, Bishop Jonah offered his responses. His Grace spoke openly and forthrightly about the crisis; his words have been identified by many as the turning point of the Council. The next morning, Bishop Jonah was elected Archbishop of Washington and New York, and Metropolitan of All America and Canada.
Video of His Grace, Bishop Jonah's presentation may be viewed here. An audio file of this presentation, posted by Ancient Faith Radio, may be found here.