89th FOCA Convention an "historic first!"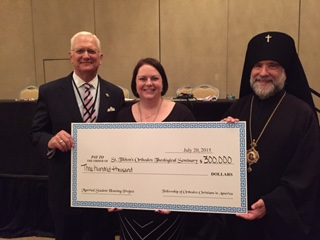 Members of the Fellowship of Orthodox Christians in America [FOCA] presented a check for $300,000.00 to provide housing for married students at Saint Tikhon's Seminary during the FOCA's 89th annual National Convention here July 18-20, 2015.

In what His Beatitude, Metropolitan Tikhon described as "an historic first," the FOCA held its 89th annual National Convention in conjunction with the Orthodox Church in America's 18th All-American Council.

Originally established as the Federated Russian Orthodox Clubs in 1927, the FOCA has been an official organization of the OCA since 1994.
After enjoying several sightseeing tours and a golf outing at Stone Mountain, FOCA delegates, members and friends attended Pan-Orthodox Vespers at Atlanta's Annunciation Greek Orthodox Cathedral on Saturday, July 18, after which they hosted an open house with interactive trivia games and contests supervised by Gregg and Lori Nescott and family.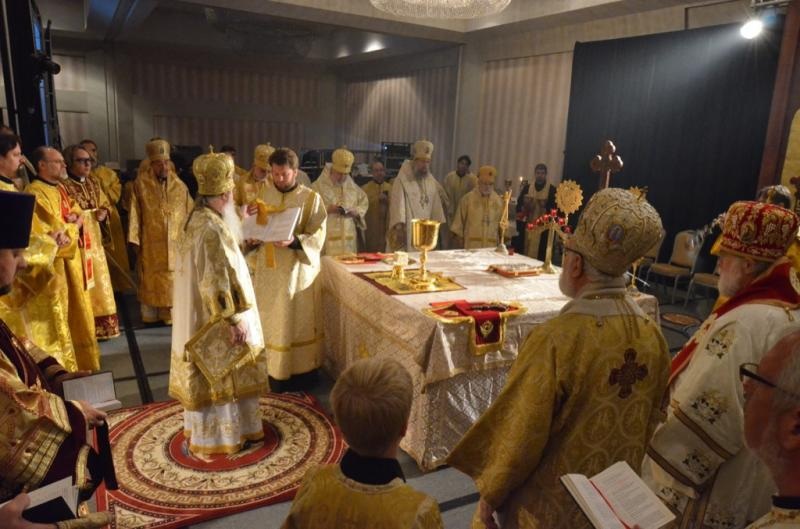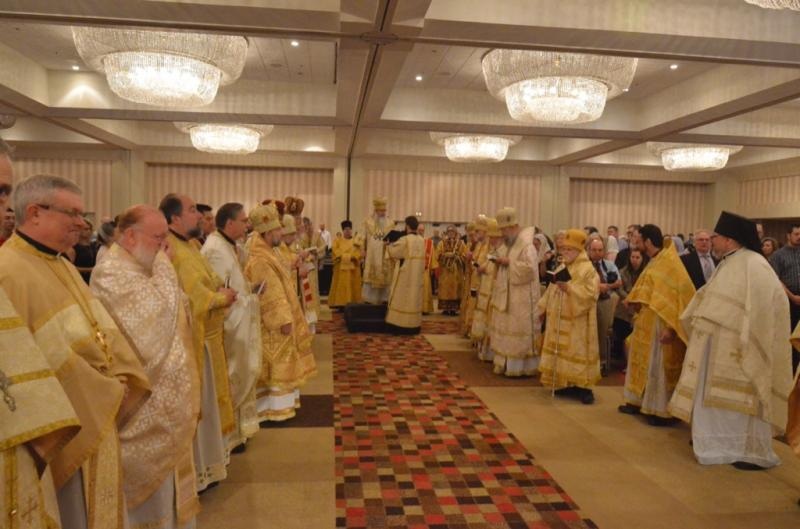 Metropolitan Tikhon and the Holy Synod of Bishops concelebrated the Divine Liturgy for conventioneers and those arriving early for the All-American Council on Sunday, July 19, at the hotel chapel. Among the concelebrating clergy were the FOCA's national Spiritual Advisor, Archpriest Theodore Boback; past Spiritual Advisors Archpriests William Evansky and Daniel Ressetar; and Archpriests Emilian Hutnyan and Vasily Gilbert. Peter Ilchuk, AAC Logistics Manager, served as subdeacon.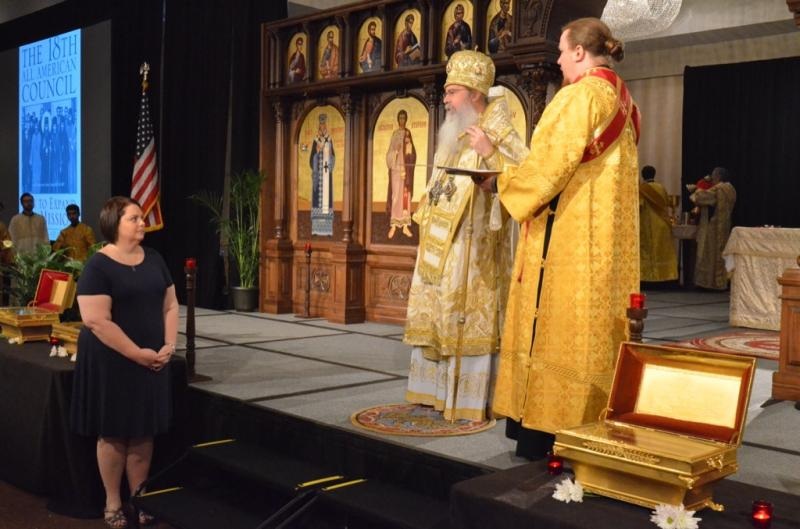 At the end of Liturgy, Metropolitan Tikhon presented National FOCA President Rebecca Tesar with a gramota for her three years of service as national President and for strengthening the relationship between the FOCA and the OCA through her personal efforts. Many years was then intoned for Ms. Tesar.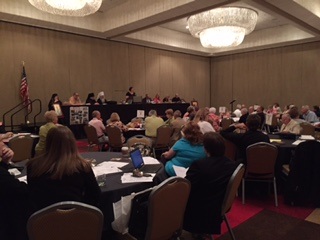 On Sunday evening, the FOCA hosted its banquet, which was attended by Metropolitan Tikhon and the Holy Synod. A dance followed.

"I rejoice in our fellowship together," Metropolitan Tikhon said in his banquet greetings. "I pledge my support as Metropolitan of the Orthodox Church in America to encourage your work with the youth and the seminaries and all the wonderful things that you have done so well over the years. May our Lord, God and Savior Jesus Christ, through the North American saints, continue to bestow his blessings upon each and every one of you."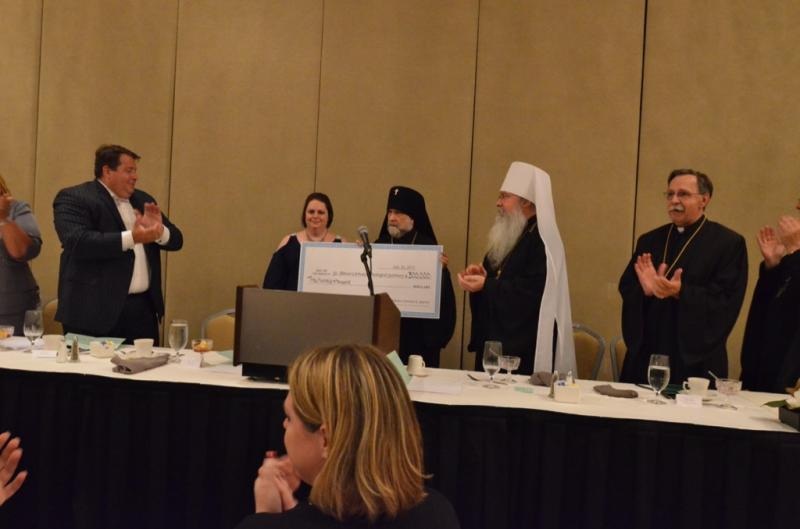 President Tesar delivered her message and, in a surprise presentation, called upon His Eminence, Archbishop Michael of New York and New Jersey, Rector of Saint Tikhon's Seminary, to whom she presented the ceremonial check for $300,000.00, which represented the FOCA's successful completion of its ongoing drive to help provide married student housing. Archbishop Michael movingly remarked that the FOCA had expended "a lot of blood, sweat and tears" in reaching this goal, adding that it was certainly "a miracle."

"From the bottom of my heart, I thank you and on behalf of the married seminarians and their families who will use this housing," Archbishop Michael said.

The convention business session opened on Monday afternoon, July 20, with a procession and the celebration of a Molieben and Memorial celebrated by Father Boback and attended by Metropolitan Tikhon and Archpriest John Jillions, OCA Chancellor. Father Evansky led the liturgical responses. After hearing reports and entertaining several motions, Archbishop Michael reiterated his thanks for the $300,000.00 in funding for the seminary project.

"I will make sure that the FOCA is remembered for this gift and will use it as a driving force to keep the project going forward," he said.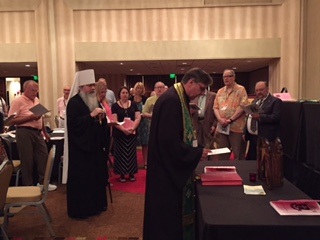 In other actions, convention delegates approved a request from His Grace, Bishop David of Sitka and Alaska, to assist in funding a children's book to be published in the Yupik and English languages, considered by-law and constitutional amendments, and discussed numerous other projects, including the Junior Olympics camping program at the Ohio District's Saint Vladimir Camp. They also adopted the FOCA 2016 budget was adopted. Marge Kovach was elected FOCA President, while Allison Steffaro was elected Vice-President. Also elected were Tammy Schultz, Recording Secretary and Michael Bowen, Treasurer. Ms. Tesar will serve as Immediate Past President.

Dr. John Schultz, who had served on the FOCA's Executive Board Past President, was "carried off" by his fellow past presidents.

The convention's closing ceremony included the traditional circle recitation of the FOCA's motto – "Pray, Study, Toil, Be Temperate" – and the singing of the anthem, "Faith of Our Fathers."

Carol Deerson, a national Past President and a member of the OCA's Preconciliar Commission, served as convention chair.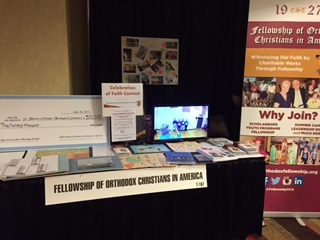 Throughout the week of the AAC, the FOCA made available an exhibit with a running video of its recent events, including the basketball tournament in Cleveland. A new brochure and copies of the the FOCA's Orthodox Christian Journal also were distributed to visitors. Angel Delimaris, the FOCA's Communications Director, and others were on hand to answer questions and promote the FOCA.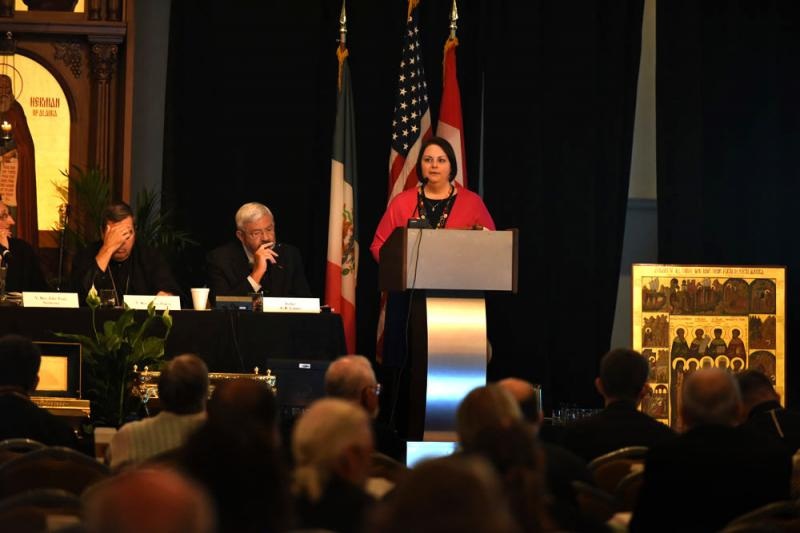 Many FOCA members stayed for the AAC, serving as delegates, observers and youth program participants. At a plenary session, Ms. Tesar delivered a presentation on the FOCA. And joint program/ad book, titled How to Expand the Mission, was issued by the OCA and FOCA, in which Metropolitan Tikhon's letter strongly endorsing the FOCA Fellowship and its work with the Church was highlighted.

The FOCA's Chicago FOCA chapters will host the 90th national Convention in Rosemont, IL—a Chicago suburb—July 22-25, 2016.