AAC reports now available; hotel deadline June 26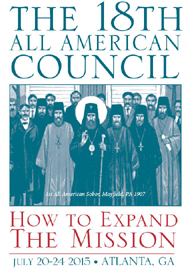 In accordance with the current Statute of the Orthodox Church in America, Article II, Section 5e, reports in preparation for the 18th All-American Council are now available on-line.
The reports, which are now available include
Printed copies of the reports will not be available at the AAC, slated to convene in Atlanta, GA July 20-24, 2015. Delegates may print out copies of the reports and place them in the three-ring binders they will receive at registration or bring them in electronic form to AAC sessions. Similarly, delegates are asked to print out copies of the Delegate Handbook, which also may be placed in the binder. Upon registration, delegates also will receive tote bags and delegate badges, which must be worn in order to gain entry into AAC plenary sessions.
The credentials and final registration process is being completed by the AAC staff. Please note that AAC registration will close on Friday, July 10. Registrations received after this date will have to be secured through special permission from the diocesan bishop.

In related news, the Atlanta Hilton is sold out, while the overflow hotel, the Hyatt Regency, is rapidly selling out. Delegates and participants are urged to make hotel reservations by June 26, 2015. The Hyatt Regency's special AAC rate—$124.00 per standard guestroom, per night, plus applicable taxes and fees—is available from July 17 through 24. Reservations may be made on-line or by phone at 1-888-421-1442. Request the "Orthodox Church in America" Group Rate.