Alexandria, VA site of 85th annual national FOCA convention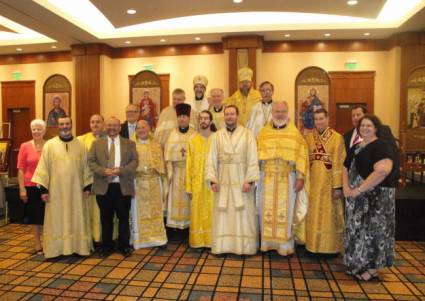 The 85th annual national convention of the Fellowship of Orthodox Christians in America [FOCA] was held at the Westin Alexandria here over Labor Day weekend. Several hundred members and guests were in attendance.

The liturgical celebrations were led by His Beatitude, Metropolitan Jonah, the FOCA's spiritual leader, and His Grace, Bishop Michael of New York and New Jersey. Both hierarchs offered words of inspiration at the banquet that followed the Sunday Divine Liturgy.

In convention action, the delegates unanimously pledged $300,000.00 to the Saint Tikhon Seminary married student housing project. To date, approximately $100,000.00 has been donated by the FOCA. His Grace, Bishop Tikhon of Philadelphia and Eastern Pennsylvania, and Archpriest Alexander Atty, Dean, sent a letter of thanks, which was read at the banquet by Dr. John Schultz, FOCA national president.

In other major business, delegates voted down most of the recommendations presented by the revitalization committee.

Conventioneers also enjoyed tours of Old Town Alexandria and Washington, DC. The youth had a separate program of activities that included a breakfast with Bishop Michael.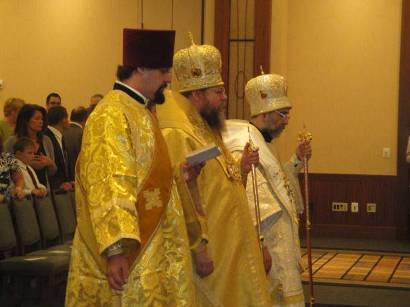 The FOCA chapter from Saints Peter and Paul Church, South River, NJ, hosted the convention, with Allison and Michael Steffaro, national vice president, serving as cochairs. Archpriests William Evansky, national spiritual advisor, and David Garretson, host pastor, coordinated the liturgical events. Basil Kozak directed the choir.

The 86th annual convention will be held at the Kingston Plantation Resort, Myrtle Beach, SC, over the Labor Day weekend 2012.

Founded in 1927 as the Federated Russian Orthodox Clubs, the FOCA is officially affiliated with the Orthodox Church in America. Visit orthodoxfellowship.org for more information.

—Nicholas Ressetar
A photo gallery of the FOCA convention may be found here.