Archbishop Nikon participates in celebration in Albania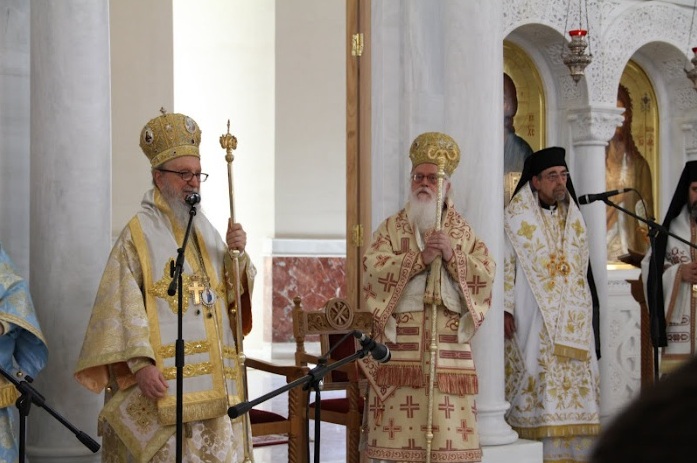 His Eminence, Archbishop Nikon of Boston and New England and the Albanian Archdiocese of the Orthodox Church in America, participated in the celebration of the 20th Anniversary of the reestablishment of the autocephalous Orthodox Church of Albania here on the last weekend of June 2012.

The highlight of the celebration took place on Sunday, June 24, the Feast of the Nativity of Saint John the Baptist, with the opening of the recently completed Resurrection of Christ Cathedral in Tirana. According to the web site of the Orthodox Church of Albania, it was on this feast that His Beatitude, Archbishop Anastasios of Tirana and All Albania was elected the Church's first primate in decades. "This year… celebrates the finalization of one of Archbishop Anastasios' greatest dreams… the construction of the Orthodox cathedral in the center of the capital city," reads a release on the site.

Thousands of faithful gathered outside of the cathedral for the Service of the Opening of the Doors. Bishop Nikon was quoted as commenting that as the doors were open, it was as if the gates of heaven were revealing the glory of Our Lord, depicted in an immense mosaic in the central dome.

In addition to Archbishop Nikon, hierarchs concelebrating with Archbishop Anastasios included the representatives of the Ecumenical Patriarchate, His Eminence, Archbishop Demetrios of the Greek Orthodox Archdiocese of America and His Eminence, Metropolitan Meliton of Philadelphia; members of the Albanian Church's Holy Synod; and clergy representing all dioceses. Numerous officials of the Albanian government, including President Bamir Topi, and representatives of the nation's other religious communities were also present. At the conclusion of the Liturgy, Metropolitan Meliton read the greetings of His All-Holiness, Ecumenical Patriarch Bartholomew. After extending a welcome to Archbishop Demetrios and Archbishop Nikon, His Eminence, Metropolitan John of Korca, spoke on behalf of the Holy Synod, recounting the 20-year ministry of Archbishop Anastasios. He focused especially on the deep sense of gratitude felt by so many Orthodox Christians in Albania and beyond for Archbishop Anastasios' missionary zeal.

Later that evening, an anniversary concert was held in the new hall of the cathedral complex, which was filled beyond capacity. The program was presented by the Orchestra of the Opera and Ballet Theatre, directed by Maestro Zhani Ciko, with vocals by the cathedral choir under the direction of Maestro Valkon Milton. Other selections were offered by the "Saint Joan Kukuzeli Byzantine Choir," the Choir of the Theological Academy, and other religious and folklore groups. At the conclusion of the concert, a documentary film highlighting the 20th anniversary of Archbishop Anastasios' election and his accomplishments, summarized as "going beyond the boundaries of 'miracle,'" was presented. At the conclusion, the assembly rose to sing the Paschal troparion, "the hymn that has accompanied every step of Archbishop Anastasios' work since the day of his arrival," according to the Albanian Church's web site.
A gallery of photos is available at www.romfea.gr and on oca.org