Archpriest John Behr to deliver annual Florovsky Lecture at St. Vladimir's Seminary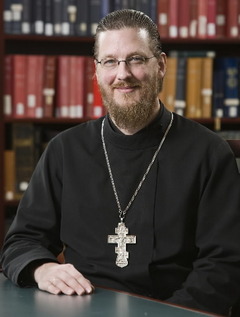 Archpriest Dr. John Behr, Dean of Saint Vladimir's Orthodox Theological Seminary here, will deliver the annual Father Georges Florovsky Lecture on Friday, September 21, 2012 at 7:30 p.m. on the seminary campus.

Father John's presentation, titled "Reading the Fathers Today," will address the meaning of "theology" and its study within an academic context.

Father John, Professor of Patristics at Saint Vladimir's, is a renowned scholar. He holds the distinction of being one of only two people in the world to be published in both the Oxford Early Christian Texts series (The Case Against Diodore and Theodore, 2011) and the Oxford Early Christian Studies series (Asceticism and Anthropology in Irenaeus and Clement, 2000). Both volumes, according to the publisher, are considered to be landmark works.

Father John's presentation, which is free and open to the public, will be given within the context of the annual meeting of the Orthodox Theological Society [OTSA], to be held on the seminary campus September 20–22, 2012. The lecture will be held in the Metropolitan Philip Auditorium of the John G. Rangos Building. A public reception will follow.

Further information may be accessed on the OTSA web site at http://www.otsamerica.org/news/2012/annual-meeting-2012.