Assembly of Bishops offers Memorial for 9/11 victims; list of Orthodox Christians known to have perished in attacks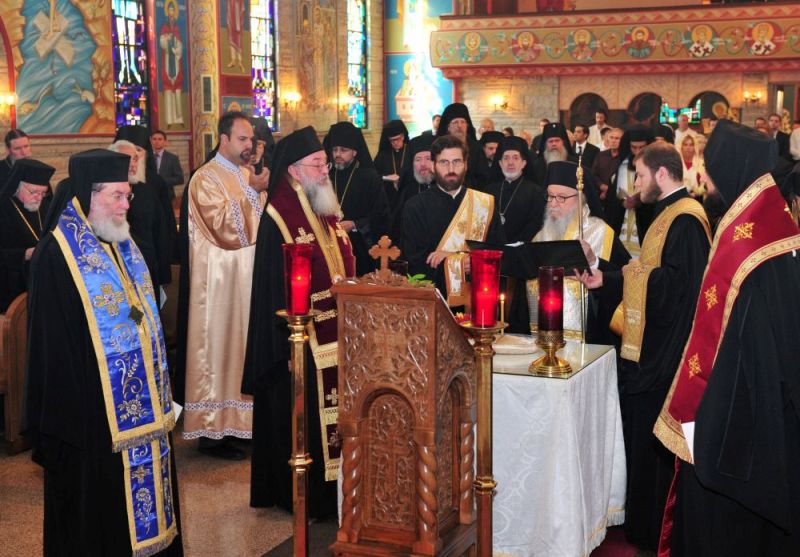 His Eminence, Archbishop Demetrios of the America [Greek Orthodox Archdiocese of America] presided today at a Memorial Prayer Service for the victims of the tragic events of September 11, 2001 and offered a prayer for the health and well being of their families and the survivors.

The Memorial was held following the Divine Liturgy at the Holy Resurrection Serbian Orthodox Cathedral in Chicago with the participation of many members of the Assembly of Canonical Orthodox Bishops of North and Central America, who are meeting this week in Chicago. The Assembly meetings continue through Wednesday, September 12.

A gallery of photos by Dimitrios Panagos may be viewed here.
In related news, the list of Orthodox Christians known to have lost their lives in the 9/11 attacks, posted last year on the web site of the Orthodox Church in America, includes the following. The list may not be complete, but it represents names received during the past 11 years. If any oca.org readers know of others who perished on that day, please send their names to .(JavaScript must be enabled to view this email address).

Pray for the Orthodox Christians who lost their lives in the 9/11 terrorist attacks.

"With the saints give rest, O Christ, to the souls of Thy departed servants, where there is neither sickness, nor sorrow, nor sighing, but life everlasting!"
Joanna Ahladiotis
Anastasios (Ernest) Alikakos
Alan Bondarenko
Katerina Bantis
Lieutenant Peter (Panagiotis) Brennan
Anthony Demas
Kontantinos Ekonomos
Anna Fosteris
Peter Hansen
Vassilios Haramis
John Katsimatidis
Danielle Kousoulis
Eskedar Melaku
George Merkouris
Peter Constantine Moutos
James Nicholas Papageorge
George Paris
Theodore Pigis
Daphne Pouletsos
Anthony (Tony) Savas
Derek Statkevicus
Andrew Stergiopoulos
Michael Tarrou
William Tselepis
Prokopios (Paul) Zois