Historic bells once again proclaim Alaskan community's faith, heritage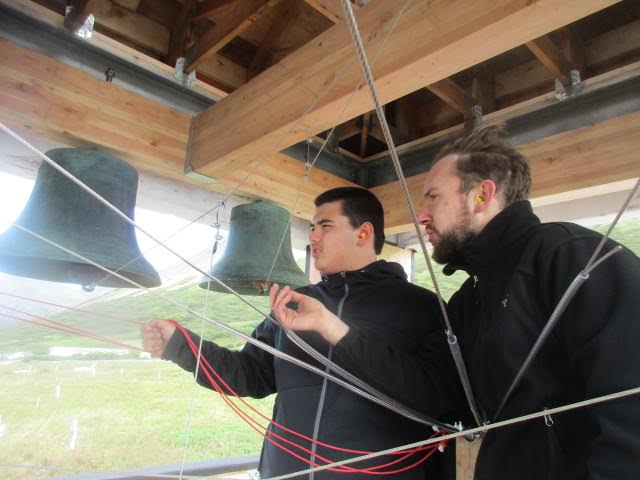 It was literally music to the ears of many residents of King Cove, a remote Aleut fishing community of about 950 year-round residents on the Pacific side of the Alaska Peninsula, when the bells of Saint Herman Church were installed and rang for the first time several weeks ago.
The bells had been cast in San Francisco in the 1880s and subsequently were installed in Holy Resurrection Church in Belkofski, a once-thriving Aleut village 12 miles by boat from King Cove, explains Priest Andrei Tepper, Rector of Saint Herman Church. Over time, Belkofski's residents moved to King Cove and neighboring villages due to improved economic opportunities. The Belkofski church's bells, along with its rich collection of liturgical items—a classic iconostasis featuring icons from Russia, the altar table, banners, and candle stands—were transferred to Saint Herman's, which was built in the 1980s.
"Many King Cove residents trace their family history to Belkofski, where the church was a very important part of village life," Father Andrei continued. "Villagers loved the church, attended services regularly and contributed generously to its upkeep.
"Over three decades later, Alaska's Rasmuson Foundation helped breathe new life into the church after awarding a grant of $24,422.00 toward the construction of the Elders' Bell Tower at Saint Herman's," Father Andrei added. "Through fundraising and appeals, the remaining funds were secured to move forward with the project, and construction commenced in July 2016." [See related story.]
The entire community—parishioners and neighbors alike—mounted a team effort to build the tower and install the six original bells and three new ones from Russia. The King Cove Harbor delivered building materials and provided tools, while city crews excavated the foundation and assisted with grading the lot. A local resident offered his own heavy equipment and provided labor required to lift the steel columns and roof into place.
"People brought other necessary materials, such as cable for the bells, tools, and ladders," said Father Andrei. "Volunteers provided lunches to feed the workers, and Peter Pan Seafoods offered the use of a crane in addition to providing meals. The King Cove Corporation offered hotel rooms, PenAir and Grant Aviation donated air travel, and the Belkofski Tribal Council sponsored a bell ringing and installation expert from Chicago, Constantine Stade. We appreciate the way the community responded to our call for help."
Prior to installing the bells in September, local residents Warren Wilson and his son Derek restored the older bells at their welding shop. Lifting and installing the largest bells—one weighing in at 882 pounds, the other over 400 pounds—was completed with the use of a telescopic forklift.
"Holes were pre-drilled in the beams, and it took precision to guide the rods into the holes," Father Andrei explained. "The operators and crew used incredible teamwork to communicate and get the job done safely, making a very difficult job look easy. Meanwhile, Stade constructed a ringing station using strings, cables and pedals."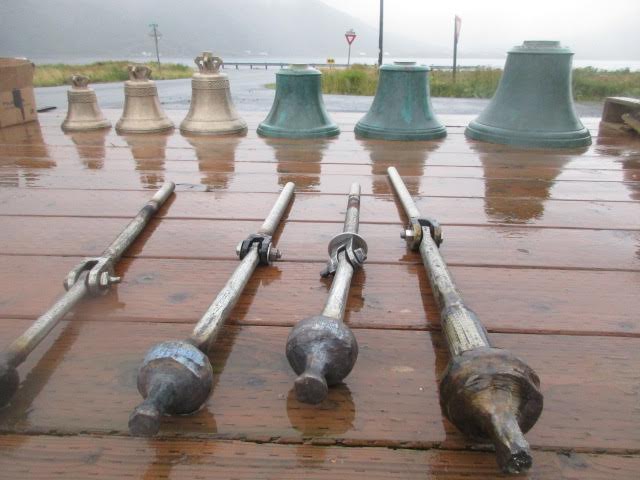 For Belkofski's former residents, hearing their church bells ring anew brought back many fond memories.
"We're mighty pleased to hear the sound of the bells again," said Irene Christiansen, an Elder and lay reader. "It brought good memories of our Elders and ceremonies during which bells rang as we processed around the church. It sounded good and bright to hear the bells again."
Father Andrei is intent on instructing the community's younger generation in the art of bell ringing.
"Stade taught Anthony Reeve, a local teenager whose grandmother had lived in Belkofski, how to ring them," Father Andrei added. "On a recent Sunday, he and some younger boys rang the bells at the service. Another teen, Elia Lind, also is learning how to ring the bells, and he too is doing a great job."
Father Andrei is confident that additional donations will make it possible to complete the tower, which awaits siding, a dome and a cross.
"Supporters are encouraged to donate funds, if they can," he said. "Without the generous grant from the Rasmuson Foundation, as well as donations from individuals, parishes and organizations throughout Alaska and the Lower 48, we could not have built the tower at this time. So many supportive people pitched in to help us with our project, and we are very grateful."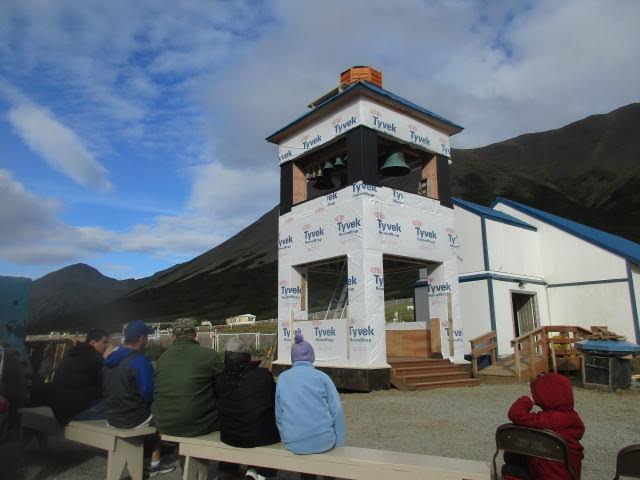 As soon as the tower is complete, it will be blessed and dedicated in memory of the community's Elders.
"The Christian faith has been central in the lives of our people for generations, Father Andrei concluded. "Our Elders embody that faith in God and service to the local community as a way of life in rural Alaska. The restoration of the bells is a sign of recognition of and appreciation for our Elders, as well as a call to our youth—and to all of us—to continue the tradition of living faith in our own lives."
Those wishing to assist in completing the Elders' Bell Tower may send donations to Saint Herman Church, P.O. Box 169, King Cove, AK 99612.