Holy and Great Council opens Monday; special web site available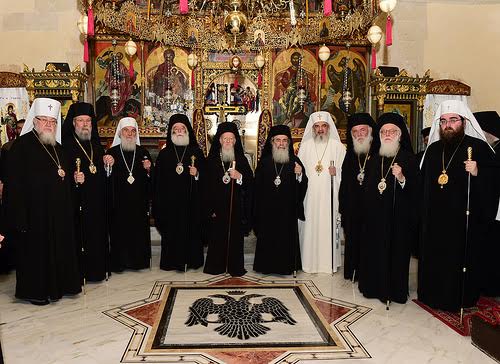 According to the Ecumenical Patriarchate's Press Office for the Holy and Great Council, several Council events will be available to the public via live streaming.
In addition to the Orthros and Divine Liturgy of Holy Pentecost, which was broadcasted at 8:00 a.m. on Sunday, June 19 local time, the following services and events will be live streamed.
Monday, June 20, 11:00 a.m.-2:00 p.m. local time—Opening Session of the Holy and Great Council.
Saturday, June 25, 17:00 a.m.-19:30 p.m. local time—Closing Session of the Holy and Great Council.
Sunday, June 26, 8:00 a.m. local time—Orthros and Synodal Divine Liturgy.
A special web site—www.holycouncil.org—will provide background information, photo galleries, and a wealth of other resources on the Council, including daily updates. The site also features explanatory videos, resources for media and Orthodox parishes, and a listing of experts available for interviews, including the Rev. Dr. John Chryssavgis, Theological Advisor to the Ecumenical Patriarch; the Rev. Dr. Nathanael Symeonides, Director of GOARCH's Department of Inter-Orthodox, Ecumenical and Interfaith Relations; the Rev. Dr. Nicolas Kazarian, who teaches political geography in Paris, France; and Dr. Brandon Gallaher of the United Kingdom, a Professor of theology who is a member of the Ecumenical Patriarchate's Archdiocese of Russian Churches in Western Europe. Texts of Council documents are available on the Council site. In addition, updates will appear on Facebook and Twitter.
The historic gathering—in the planning stage since the 1960s—will consider issues that span the mission of the Orthodox Church in the modern world and its relations with other Christian traditions to the importance of fasting and the sacrament of marriage.
On June 6, the Holy Synod of Bishops of the Orthodox Church in America issued a statement and liturgical petitions for use during the duration of the Council, which concludes on Sunday, June 26.