IN THE NEWS: AAC liturgical services and music, youth program, new publication
Liturgical services at the 18th All-American Council.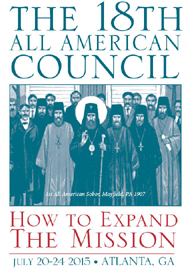 The liturgical services are at the heart of the 18th All-American Council. On Saturday, July 18, 2015 at 6:30 p.m., participants in the Fellowship of Orthodox Christians in America's national convention and those arriving early for the AAC are invited to attend a pan-Orthodox Great Vespers at Atlanta's Annunciation Greek Orthodox Cathedral, hosted by His Eminence, Metropolitan Alexios of the Greek Orthodox Metropolis of Atlanta. Transportation will be provided from the hotel.

The Hierarchical Divine Liturgy, at which His Beatitude, Metropolitan Tikhon and members of the Holy Synod will serve, will be celebrated in the hotel's grand ballroom at 9:00 a.m. on Sunday, July 19. Faithful from area parishes will join AAC and FOCA participants. All services throughout the week will be celebrated in the same venue.

Daily Vespers will be celebrated on Monday, Tuesday and Wednesday evenings at 5:00 p.m. Divine Liturgy will be celebrated on Tuesday, Wednesday and Friday mornings at 6:00 a.m. [Tuesday morning Liturgy will be sung by a male choir.] On Tuesday, July 21, the Akathistos Hymn in honor of the Wonderworking Sitka Icon of the Mother of God will be celebrated at 7:30 a.m. On Wednesday, July 22, the Akathistos Hymn in honor of the Wonderworking Icon of Saint Anne also will be celebrated at 7:30 a.m. On Thursday, July 23, the Hierarchical Divine Liturgy will be celebrated at 7:00 a.m., while the Akathistos Hymn in honor of All Saints of North America will be celebrated on Friday, July 24, at 7:30 a.m. Daily Compline will be celebrated for youth program participants at 9:30 p.m. Opportunities for confession, sermons and scriptural reflections will be available as announced.
Attention all singers!
For those wishing to participate in the Council Choir, a rehearsal will be held on Saturday, July 18 at 4:30 p.m. According to Prof. David Drillock, who chairs the OCA's Department of Liturgical Music and Translations, daily rehearsals also will be held. Times and locations will be announced throughout the week, and all singers are invited to "sing praises to our God!"

Liturgical music for various services, including the Akathistos Hymns on Tuesday and Friday morning, may be downloaded in PDF format.
In a related "musical note," a limited pre-release draft edition of A Common Book of Church Hymns: Divine Liturgy—the first major music publication in decades available from Saint Tikhon's Monastery Press—will be make its debut at the AAC. The 238-page anthology, compiled and edited by Benedict Sheehan, includes practically all the hymns, unchanging as well as variable, necessary for the celebration of the Divine Liturgy set to melodies that allow for an aesthetically pleasing and stylistically unified rendition by a single chanter or a small group of singers. As Mr. Sheehan writes in the volume's preface, the collection "is the first volume in English that attempts to rival the existing Slavonic obikhods in terms of comprehensiveness and as well as easy adaptability to small ensembles or solo chanters."

The draft edition of A Common Book is being released in softcover format at the AAC for a "trial period" in preparation for final publication. Purchasers will be invited to submit feedback to STM Press. Those who purchase the draft edition will be eligible to purchase the final hardcover edition at a discount. Copies will be available in the AAC display area at Saint Tikhon's Bookstore and Musica Russica.
Youth—a vital part of the AAC.
OCA Youth Director Andrew Boyd reports that 70 youth and 20 volunteers are on their way to Atlanta to participate in the AAC's exciting youth program.

"In our morning sessions, youth will learn how the saints of our Church expanded it's mission in North American and globally, connected with the larger theme of the council," said Priest Benjamin Tucci, who is managing the youth program. "In the afternoon, we'll have time for fellowship and fun at local water parks and attractions like the Georgia Aquarium."

"I'm delighted to announce that we've been able to offer financial support to over 20 youth participants to help their families cover the cost of attending this unique event in the life of the Church," said Mr. Boyd.

Other highlights of the youth program include a breakfast with the Holy Synod, a youth banquet at Annunciation Greek Orthodox Cathedral, and time for the youth to make a presentation to delegates during a plenary session.

"As someone who grew up in a smaller parish, any opportunity for me to be connected to the greater Church was simply invaluable to strengthening my faith," added Mr. Boyd. "Every opportunity we have to connect our youth to each other and to the Church serves as an opportunity to make them stronger witnesses when they return to their home communities."