IN THE NEWS: "From coast to coast… and beyond!"
Annapolis, MD: OCF members visit Romania's Pro Vita Ministry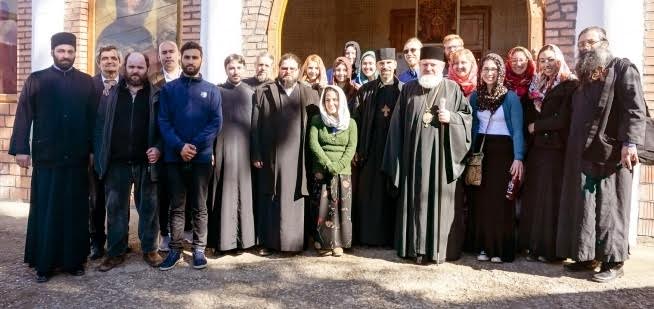 Eleven American students belonging to Orthodox Christian Fellowships [OCF] around the US, led by Priest Robert Miclean, OCF and Annapolis College Ministry Chaplain and Pastor of Holy Archangels Mission, traveled to Romania in early March to minister to orphans and families at the Pro Vita Ministry in Valea Popului.

"Pro Vita began offering a safe place to give birth as an alternative to abortion to women in cricis pregnancies," said Father Robert. "The ministry has grown to house over 400 orphans and abandoned children in addition to abused women and their children and the dispossessed aged."

The mission trip was one of several OCF "Real Break" ministries providing an alternative to "Spring Break."

In recognition of OCF's Pro Vita efforts and Father Robert's five years of leading similar groups, His Beatitude, Patriarch Daniel of Romania sent his blessing and greetings to the team through His Grace, Bishop Varlaam, with whom participants had the opportunity to discuss a variety of topics including the situation of the Church in Romania during communist times and today. On behalf of Patriarch Daniel, Bishop Varlaam presented books to each OCF member.

"The trip was a life-changing experience for many of the students as they learned to come outside themselves to love and serve in Christ's name," Father Robert added.
Mt. Pleasant, SC: Archimandrite Sergius leads pre-Lenten retreat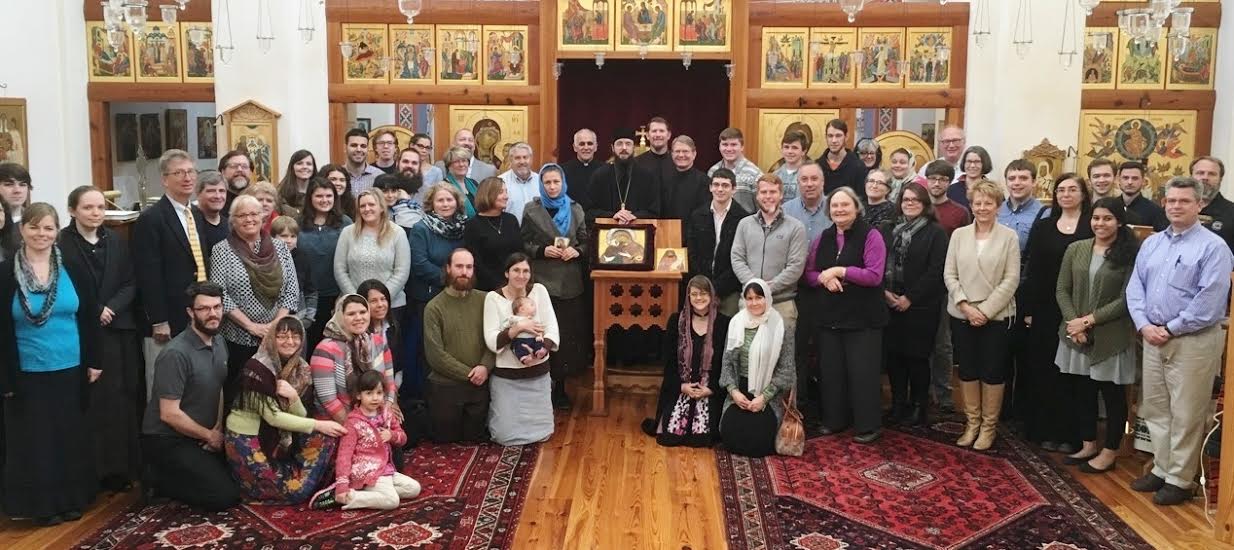 Archimandrite Sergius, Abbot of Saint Tikhon's Monastery, South Canaan, PA, conducted a retreat at Holy Ascension Church, Mt. Pleasant, SC for faithful throughout the region on the weekend of Forgiveness Sunday 2016.

"It was amazing," said Priest John Parker, host Rector. "Father Sergius brought with him the Wonderworking Icon of Saint Anna, before which we had a service on Friday night. We advertised this in the local papers, which yielded approximately 50 visitors, plus parishioners—a truly holy evening."

On Saturday, Father Sergius spoke on acquiring the mind of Christ, repentance and Confession.

"We were joined by Orthodox Christians from the Greek Metropolis of Atlanta and OCA communities in Macon, GA, Beaufort and Columbia, SC, and Charlotte, NC, in addition to faithful from the local Greek and ROCOR parishes," Father John added. "May the Lord bring fruit from this event—and may the wide net inspire others to similar efforts!"
Jacksonville, FL: Parish donates truck for Mexican missions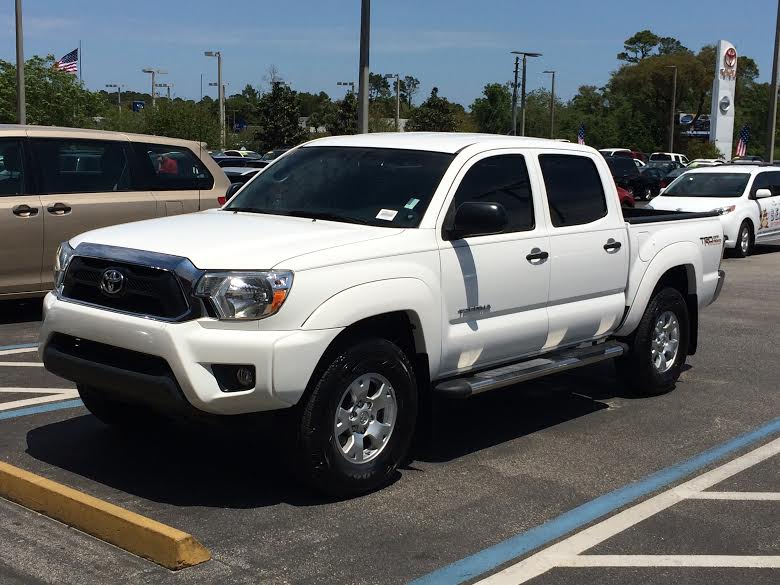 Established as a mission in 1994, Saint Justin Martyr parish was the first to receive a Church Planting Grant from the Orthodox Church in America. Not only has the former mission grown into one of the largest parishes in the OCA Diocese of the South, it has become increasingly active in mission, from local ministry to the homeless to sending and supporting mission teams to Mexico, Alaska, Haiti, Asia and Africa.

"An area of great interest to us, through the joint OCA-OCMC Mission teams to the states of Veracruz and Hidalgo, Mexico, was the need to provide a dependable off-road vehicle for the area clergy to visit the 5,000 people of the region's 12 OCA communities," said Archpriest Theodore Pisarchuk, Rector of Saint Justin's. "At present, Hieromonk Serafin lives in the area but is dependent on others to get between these remote Orthodox villages located off unmapped, hard to travel, slow-going—we're talking five miles per hour!—stone roads."

With the blessing of His Eminence, Archbishop Alejo of Mexico City, the faithful of Saint Justin's raised the funds necessary to purchase a 2012 Toyota Tacoma Double Cab 4x4 V6 TRD off-road truck—"an important missionary tool," according to Father Theodore. "Now Father Serafin will be able to serve two or three village communities each Sunday."
Bethlehem, PA: Feeding the hungry for over a decade!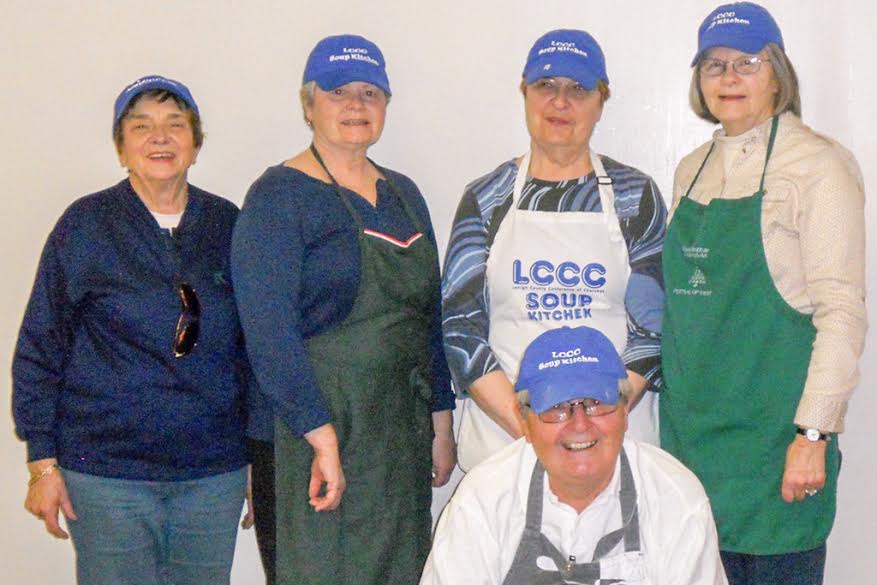 For over 10 years, members of Saint Nicholas Church, Bethlehem, PA have volunteered monthly at the Lehigh County Council of Churches Soup Kitchen. Meals are prepared and served to as many as 150 individuals at Saint Paul Lutheran Church in downtown Allentown, PA every Tuesday, Wednesday and Thursday throughout the year.

Volunteers from Saint Nicholas parish include Nancy Sabol, Patricia Stetz-Grammes, Nancy Kohudic, Donald Dudash, and Victoria Dimonie, who are involved in all phases of preparation, serving, and cleanup. Each Fall, the parish sponsors a special hot dog luncheon after Sunday Liturgy to raise funds for the Soup Kitchen's ongoing ministry. Members of the ministry find it to be a very rewarding and enriching experience.
Milan, NY: Diocesan lenten teen retreat explores faith and science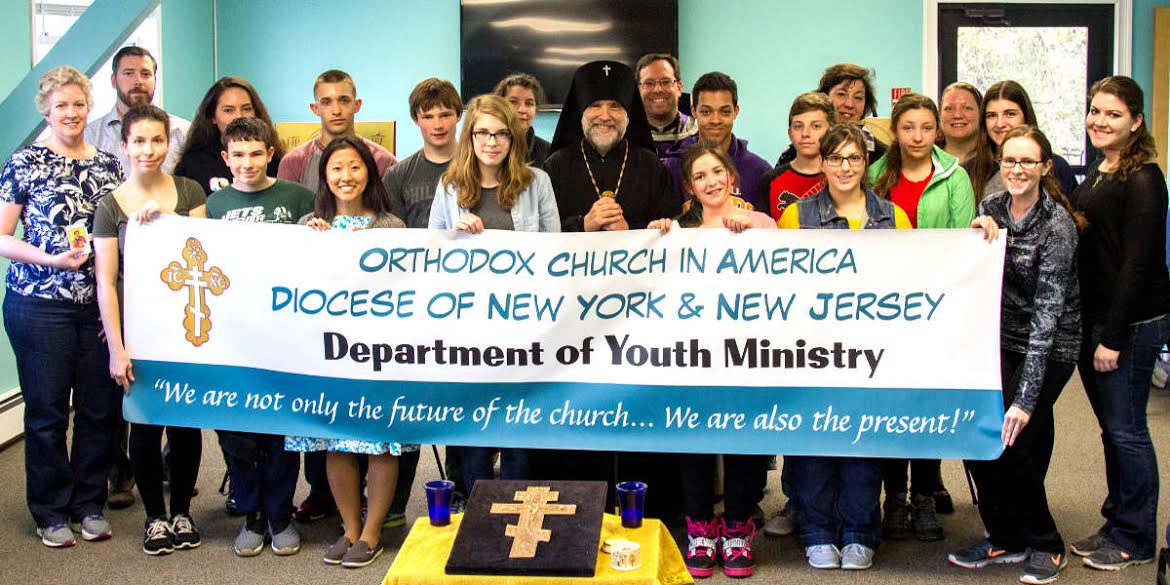 [By Danielle Geeza] What do faith, science, Church services, zip lining, rock wall climbing and "Minite to Win It" have in common? To an average person the answer would be "nothing!" However, if you were to ask the participants of this year's annual Lenten Teen Reteat at the Taconic Retreat Center, Milan, NY, they would be able to tie each of these elements together; they were all components of the event held from Friday, April 1 through Saturday, April 3, 2016.

His Eminence, Archbishop Michael, together with Father Jason Vansuch (Chairperson, Department of Youth Ministry) and Danielle Geeza and Janine Alpaugh (Department of Youth Ministry Assistants) developed a wonderful weekend program centered on the sometimes controversial topics of "Faith and Science" and how they need not oppose each other.

Peter Parsells, MS, PA-C and Heather Parsells, MD, led the educational sessions, during which they shared their testimonies as two Orthodox professionals in the field of medical science. As medical professionals, husband and wife, Peter and Heather are extensions of God's grace. Heather, a pediatric anesthesiologist, sees new life every day. Peter, a neuroscience physician assistant, witnesses God's healing presence through medical evaluations and procedures. Together, the couple compared and contrasted what it means to be a person born into Orthodoxy who came to discover the joys and wonders of science (Peter), versus a person rooted in the academics of science who later came to find the Orthodox Faith (Heather). In their testimonies, participants learned we can be people with immense scientific intelligence who are still grounded in our faith! They also entertained questions from participants.

A quaint chapel was assembled in the upper room of the retreat center's main building on Friday afternoon. Participants arrived for registration, pizza, and icebreaker games later that evening. The group was blessed to have Archbishop Michael preside at Saturday's Memorial Divine Liturgy with Father Jason and, later in the evening, at Great Vespers. During their free time on Saturday, the teens collectively played a heated game of basketball, but only after climbing the retreat center's outdoor rock wall and zip-lining through its wooded property—a highlight of the weekend! Following Vespers and dinner, the group was divided into two teams and played "Minute to Win It," a fun-filled competitive game coordinated by Janine and Danielle and modeled after the popular TV show. Participants stayed up late into the evening as they watched the movie "Do You Believe?" with Archbishop Michael, and then proceeded to have an informal question-and-answer session with their diocesan hierarch.

On the Sunday of the Veneration of the Cross, Father Jason served Divine Liturgy following a lesson on the service of preparation of the bread and wine, the Proskomedia. The scent of incense lingered in the air after each service throughout the weekend, leading many non-Orthodox from other visiting groups to sit in meditation taking in the beauty of our icons and peaceful environment. After Sunday breakfast the weekend came to a close with participants feeling spiritually renewed and having gained many new Orthodox friends!

The Diocesan Department of Youth Ministry is excited to announce that the next Lenten Teen Retreat is scheduled for March 2017, with the specific date and location to be determined.
Kenosha, WI: Archpriest Alexis W. Fedec celebrates 50th Anniversary of Ordination to Priesthood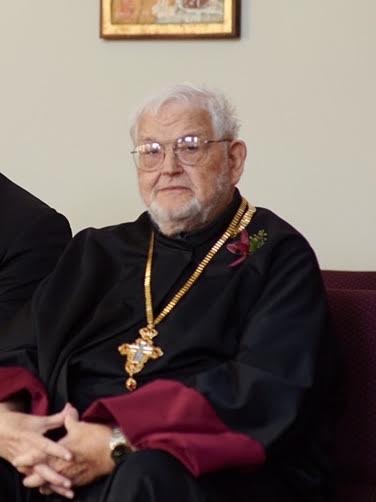 On Saturday, February 13, 2016, Archpriest Alexis W. Fedec, retired Rector of Saint Nicholas Church, Kenosha, WI, marked the 50th Anniversary of his Ordination to the priesthood. His Grace, Bishop Paul of Chicago presented a Synodal gramota to Father Alexis during his visit to the parish for the celebration of the Liturgy of the Presanctified Gifts on Wednesday, April 20.

A native of Philadelphia, PA, Father Alexis graduated from Youngstown State University, Youngstown, OH. He attended Christ the Savior Seminary, Johnstown, PA, and Saint Tikhon's Seminary, South Canaan, PA, from which he graduated in 1962. He was ordained to the priesthood on February 13, 1966 by His Eminence, the late Metropolitan Ireney, at Holy Virgin Protection Cathedral, New York, NY.

In addition to serving Saint Nicholas Church, from which he retired as Pastor Emeritus in 2005, Father Alexis faithfully served the Nativity of the Virgin Mary Church, Madison, IL; Three Saints Church, Ansonia, CT; Saints Peter and Paul Church, Minersville, PA; and Saints Cyril and Methodius Church, Jeannette, PA. He also served as Treasurer of the Chicago Deanery for many years.

Father Alexis and his wife, Matushka Alexandra, have six children and two grandchildren.

May God grant Father Alexis many years!
Eureka, CA: Diocesan priest honored in Middle East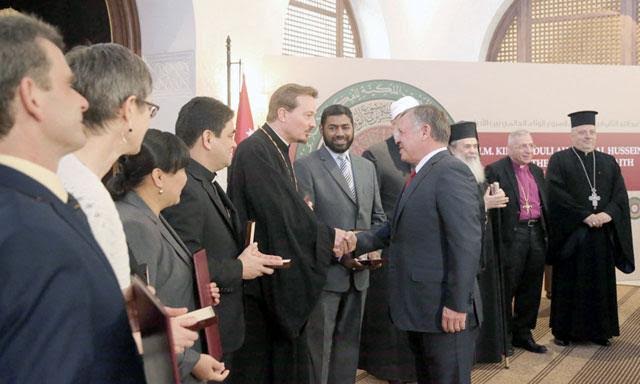 With the blessing of His Eminence, Archbishop Benjamin of San Francisco and the West, Archpriest Laurent Cleenewerck, Rector of Saint Innocent Church, Eureka, CA, travelled in mid-April 2016 to Amman, Jordan, at the invitation of King Abdullah II, where he was recognized for his recent contribution to Christian-Muslim and interfaith dialogue.

Every year since 2009, with the support of a formal United Nations resolution, a World Interfaith Harmony Week is organized in February, under the patronage of the King of Jordan and with the personal participation of His Beatitude, Patriarch Theophilos III of Jerusalem. The institution recognized for the first prize by the Jury this year was Euclid University, a distance learning institution for which Father Laurent teaches several courses and for which he authored an academic paper dealing with the specificities of the Orthodox understanding of the Trinity as it relates to the shared belief in one God. He also presented a workshop jointly organized with the Religious Studies department of Humboldt State University. For this reason, he was invited to attend the award ceremony at the Jordanian Royal Palace on Sunday, April 17, to deliver a short speech to the distinguished audience. The event was widely featured in the Jordanian media.

For his part, Patriarch Theophilos III of Jerusalem noted the importance of interfaith harmony in the Middle East as well as the valuable support of the King of Jordan to his unique responsibility as custodian of the holy sites.