Metropolitan Tikhon addresses OCA Stewards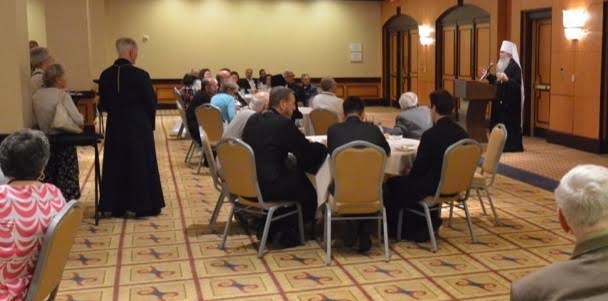 At a reception for current and prospective members of the "Stewards of the Orthodox Church in America," His Beatitude, Metropolitan Tikhon spoke of the importance of stewardship in the "expanding the Mission" of the Church.

The reception was held during the OCA's 18th All-American Council here on Wednesday evening, July 22, 2015.

In expressing his gratitude to the many individuals in attendance, Metropolitan Tikhon related the importance of sound stewardship in the Church's effort to proclaim the Gospel in our time. He especially noted that the videos, produced by each diocese and showcased at AAC plenary sessions, testified eloquently to the many ministries and outreach programs that are occurring throughout the OCA—ministries that, while often unnoticed, are at the very heart of our Mission as Orthodox Christians.

Metropolitan Tikhon also encouraged those who had not yet contributed to the Stewards to prayerfully consider joining the nearly 200 individuals, families and parishes who already had done so since November 2013, when an initial three-week Church-wide "Become a Steward" appeal had been made. [See related story.]
Funds donated by those who responded to the appeal were earmarked to provide direct support to a diverse range of departmental ministries.

"A number of today's Stewards had donated generously to the Fellowship of Orthodox Stewards, which for many years provided funding for our departments and their ministries," explained Archpriest Eric G. Tosi, OCA Secretary. "Today's Stewards are building upon that foundation. Those willing to go 'over and above' can surely make a difference in maintaining—and, of even greater importance, expanding—the Church's much needed ministries."

Details on the mission of the Stewards of the OCA may be accessed here, where a link may be found by which secure on-line donations may be made. Donations also may be sent to the Stewards of the OCA, PO Box 675, Syosset, NY 11791-0675.