Metropolitan Tikhon sends condolences to Patriarch Kirill after deadly attack at Dagestan church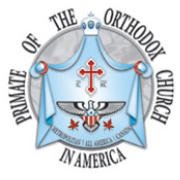 On Thursday, February 22, 2018, His Beatitude, Metropolitan Tikhon sent a letter to His Holiness, Patriarch Kirill of Moscow and All Russia offering heartfelt "prayers and compassion" in response to the shocking attack on an Orthodox Christian Church in the town of Kyslyar in Russia's Dagestan region that left five women parishioners dead and at least five others, including two police officers, wounded.
The attack—which took place as the faithful were leaving the church after the celebration of Forgiveness Vespers on Sunday, February 18—was perpetrated by an unidentified gunman, who was killed on site by police fire.
The text of Metropolitan Tikhon's letter to Patriarch Kirill appears below and is available in PDF format.
Letter of Condolence of His Beatitude, Metropolitan Tikhon to
His Holiness, Patriarch Kirill of Moscow and All Russia
February 22, 2018
Your Holiness, Beloved brother and concelebrant in Christ:
The news we have received about the murderous attack on Orthodox believers attending the Forgiveness Sunday service in the city of Kyslyar in the Dagestan region of the Russian Federation is a painful reminder of the violence and hatred lurking in human hearts.
We express to Your Holiness our condolences and deep sympathy. May your efforts to promote peace in relations between Orthodox Christians and Muslims in the Caucasus be blessed by God. May the prayers and compassion of the Holy Church of Russia bring healing to the suffering, comfort to the grieving, and hope to all those who hunger and thirst for righteousness.
With brotherly love in the Lord,
+ Tikhon
Archbishop of Washington
Metropolitan of All America and Canada