NEWS ELSEWHERE: Washington, Ohio, Michigan
EDITOR'S NOTE: Please send regional and deanery news and photos to NEWS ELSEWHERE at .(JavaScript must be enabled to view this email address).


WILKESON, WA: Historic Holy Trinity Church to celebrate 110th consecration anniversary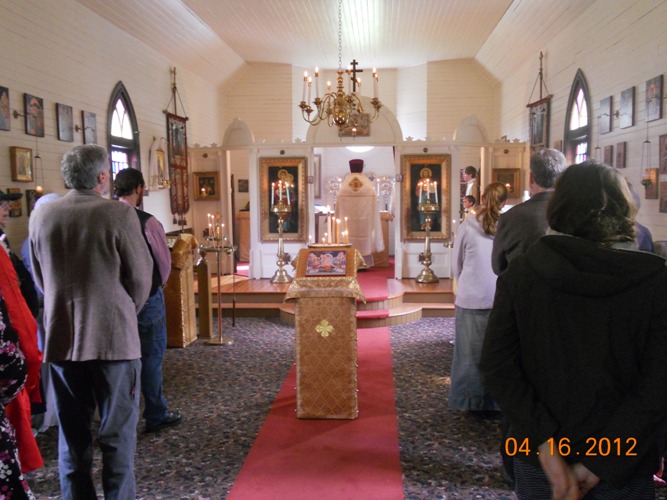 The 110th anniversary of the consecration of Holy Trinity Church, Wilkeson, WA, will be celebrated in September 2012. His Grace Bishop Benjamin of San Francisco and the West will celebrate the Hierarchical Divine Liturgy with Archpriest John Pierce, rector of Holy Trinity Church and Holy Resurrection Church, Tacoma, WA, and Orthodox clergy from throughout the region. A celebration will follow.
Holy Trinity Church is listed on both national and state historical registers. It continues to serve the community on special occasions and feast days, as regular services are now held at the larger Holy Resurrection Church.
Founded in 1896, the parish ministered to the coal mining community in the Cascade Mountain foothills of southeast Pierce County, approximately 45 miles southeast of Seattle. Built in 1900, Holy Trinity Church was consecrated in 1902 by Bishop Saint TIkhon [Belavin] of the Aleutians and North America, who later returned to Russia where in 1917 he was elected Patriarch of Moscow. In 1925, he died as a confessor of the faith, a victim of the Soviet government's anti-Church policies.
To assist in financing the restoration and maintenance of historic Holy Trinity Church, post cards depicting the church in 2011 and the 1910-20 era and icon cards of Saint Tikhon are available at $1.00 each. Please send check or money order to Holy Resurrection Church, PO Box 1332, Puyallup, WA 98371.
For additional information please visit www.orthodoxtacoma.com.
OBERLIN-LORAIN, OH: Noted international author, lecturer to speak May 4-5
Jim Forest, author of "Praying with Icons" and numerous other widely read Orthodox Christian books, will be the guest of the Oberlin College Orthodox Christian Fellowship and Saints Peter and Paul Church, Lorain, OH, Friday and Saturday, May 4-5, 2012.
On Friday, May 4, Forest will deliver a lecture titled "Let us Pray to the Lord" at the Oberlin College West Lecture Hall, 119 Woodland St., Oberlin, OH at 7:00 p.m. He will focus on the seventh Beatitude — "Blessed are the peacemakers" — and reflect on peace as a primary theme of Christian life, Liturgy, and Tradition.
Forest will conduct a luncheon retreat at Saints Peter and Paul Church, 2238 East 32 St., Lorain, OH on Saturday, May 5, from noon until 3:00 p.m. The retreat theme is "The Road to Emmaus: Pilgrimage as a Way of Life," in which he will example Christian life as a "pilgrim path" in which one lives day by day in a God-attentive way. Drawing on the wisdom of the saints and his own travels, he will consider both "thin places" and "dark places" that have helped make him a pilgrim.

An American ex-pat living in Alkmaar, Holland, Forest is the executive secretary of the Orthodox Peace Fellowship and associate editor of OPF's journal and web site, In Communion. In addition to "Praying with Icons," he also is author of "The Road to Emmaus: Pilgrimage as a Way of Life," "Ladder of the Beatitudes," "Living With Wisdom: A Biography of Thomas Merton," and "All Is Grace: A Biography of Dorothy Day." He also has written several children's books. He and his wife Nancy are members of Saint Nicholas Orthodox Church, Amsterdam.

For additional information please contact Archpriest Basil Stoyka, host pastor, at .(JavaScript must be enabled to view this email address) or 440-277-5281 or Chris Baymiller at .(JavaScript must be enabled to view this email address) or 440-935-7652.
DETROIT, MI: May 20 Pan-Orthodox dinner-dance to benefit retired clergy, widows
The Council of Orthodox Christian Churches of Metropolitan Detroit [COCC] will sponsor its annual "Spring Fling" dinner-dance to benefit retired Orthodox priests and priests' widows on Sunday, May 20, 2012 at the banquet center of the Antiochian Orthodox Basilica of Saint Mary, 18100 Merriman Rd., Livonia, MI.

The event will begin with a social hour at 5:00 p.m., followed by a buffet dinner at 6:00. There will be live music by the Offbeats and entertainment for children.

Tickets including dinner and refreshments are $40.00 per person, with children ages 12 and under admitted free. To order tickets or obtain further information, contact Mihaela Charlier at 313-595-7640 or .(JavaScript must be enabled to view this email address), or Richard Shebib at 734-422-0278 or .(JavaScript must be enabled to view this email address).

The COCC is also soliciting business and private sponsorships, as well as advertisements for a souvenir program book, that will be distributed at the event. Sponsorship levels range from $250.00 to $1,000.00 and above, while rates for the program book range from $20.00 to $200.00. For further information on sponsorships and advertising, contact Shebib at 734-422-0278 or .(JavaScript must be enabled to view this email address). Deadline for sponsorships and ads is May 5.

The COCC is a 55-year-old clergy and lay association that represents canonical Orthodox churches in metro Detroit. Its mission is to promote Orthodox Christianity throughout the area through worship, fellowship, and charitable, educational and outreach programs. For further information, visit www.coccdetroit.com.