OCA delegation participates in celebrations in Kyiv, Ukraine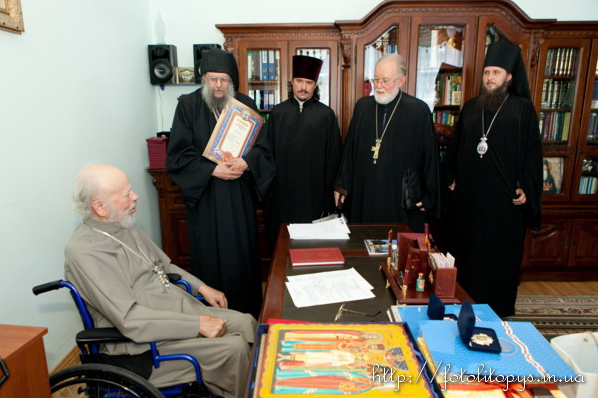 At the invitation of His Holiness, Patriarch Kirill of Moscow and the Ukrainian Orthodox Church, a delegation representing the Orthodox Church in America joined representatives of all of the local Orthodox Churches at the celebration of 20th anniversary of His Beatitude, Metropolitan Volodymyr as Metropolitan of Kyiv at the Kyiv Caves Lavra in the Ukrainian capital during the last week of July 2012.

Heading the OCA delegation was His Grace, Bishop Alexander of Toledo, Chairman of External Affairs, who was accompanied by Archpriest Leonid Kishkovsky, Director of External Affairs and Interchurch Relations, and Protodeacon Nazari Polataiko, Secretary of the Archdiocesan Council of the Archdiocese of Canada. They arrived in Kyiv on July 26.

Prior to the beginning of the celebration, all Orthodox delegations, one by one, were received by Metropolitan Volodymyr at his residence just outside Kyiv. Greetings and gifts were exchanged. The OCA delegation presented the Metropolitan with an icon of the saints of Alaska. [A gallery may be viewed here.]

According to Father Leonid, the OCA delegation met with Patriarch Kirill for one hour at the Lavra in light of the recent resignation of Metropolitan Jonah. The discussion included a candid review of the current challenges faced by the OCA, including the convening of an All-American Council to elect a new Primate, slated to be discussed at a special session of the OCA Holy Synod of Bishops on August 13, 2012. [See related story.]

"Bishop Alexander concelebrated with the representatives of the other local Orthodox Churches at the Vigil and the Divine Liturgy of the Feast of Holy Prince Vladimir, at which Patriarch Kirill presided," said Father Leonid. "As is customary, the bishops representing the Orthodox Churches were placed in the order of precedence, with Constantinople first and the Orthodox Church in America last.

"Metropolitan Volodymyr concelebrated, having regained strength after a long sojourn in hospital," he added. [A gallery of the liturgical services may be viewed here.]

At a festive concert in Metropolitan Volodymyr's honor, Patriarch Kirill addressed the large gathering of attendees. Metropolitan Volodymyr, speaking from his chair on the stage, offered a moving and eloquent testimony to his vision and his ministry.

The Kyiv celebrations also marked the 20th anniversary of the Council of Bishops of the Ukraininan Orthodox Church, at which Metropolitan Volodymyr was elected Primate of the Ukrainian Orthodox Church.

"In the midst of great difficulties and schisms in Ukraine, Metropolitan Volodymyr shaped Church life in a positive and peaceful way," said Father Leonid. "The Ukrainian Orthodox Church has grown signficantly in the number of its dioceses, parishes, and monasteries, and has deepened and expanded its ministries in Ukrainian society."

Members of all of the delegations were especially thankful for the hospitality afforded them by the Ukrainian Orthodox Church throughout the celebration.