OCA's three seminaries begin classes, mark anniversaries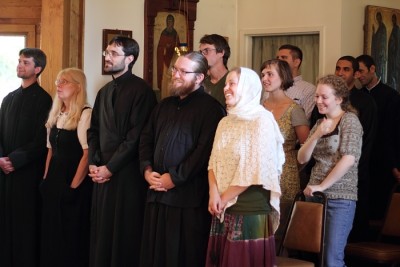 The Orthodox Church in America's three seminaries—Saint Tikhon's, South Canaan, PA; Saint Vladimir's, Yonkers, NY; and Saint Herman's, Kodiak, AK—welcomed new and returning students to their campuses during the last week of August and the first week of September.

Archpriest Dr. Alexander Atty, who is beginning the final year of his three-year appointment as Dean, welcomed a near-record 21 students at Saint Tikhon's Seminary, according to Christopher Patton, Assistant to the Dean in Development and Public Affairs.

"This represents one of the largest classes to enroll at the seminary in recent memory," said Mr. Patten. "The students come from various and diverse jurisdictions, both here and abroad, and represent a true global cross-section of the entire Orthodox world."

New students enjoyed a variety of social events in addition to orientation sessions and a retreat.

At Saint Vladimir's Seminary, Archpriests John Behr and Chad Hatfield, Dean and Chancellor respectively, welcomed a record 32 incoming students, who joined 36 returning seminarians for opening classes on August 27.

Incoming students attended talks by faculty members, cookouts and chapel services as part of their orientation program.

Both seminaries are celebrating their 75th anniversaries this year.

Classes also began at Saint Herman's Seminary, which is celebrating its 40th anniversary. The seminary was featured in a recent Anchorage KTUU-TV interview with Archpriest John Dunlop, Dean; Daria Safronova, Instructor and Archivist; and Alutiiq elders Katherine Chichenoff and Irene Coyle, which highlighted the school's archives and the discovery of the Liturgy of Saint John Chrysostom in Alutiiq, commissioned by Saint Seraphim of Uglich around 1910. The book is a "Rosetta Stone" for the Alutiiq language and could be instrumental in its revival.