Orthodox Christian Prison Ministry honors Field Education Program at St. Tikhon's Seminary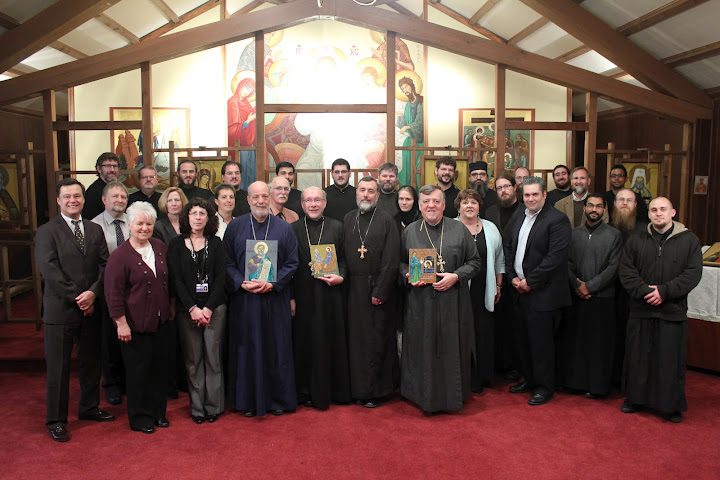 Fifteen seminary students at Saint Tikhon's Seminary here completed their Field Education requirements by visiting and ministering to the men who live in a Maximum Secure Mental Health facility. This is a place where mentally ill criminals will spend the rest of their lives.

Archpriest John Kowalczyk oversees the Field Education program at the seminary. A vital part of this program is the prison ministry in which Father John ministers 15 hours per week. Each semester, he takes a group of seminary students to visit these men on a weekly basis. It is an incredible ministry of presence and of love.

On May 8, 2012, these students received their certificates of completion. Priest Stephen Powley, Assistant Director of Orthodox Christian Prison Ministry, flew in from Colorado to assist with this ceremony. The Dean of the seminary, Archpriest Alexander Atty, warmly welcomed Father Stephen and expressed his total support of OCPM and the prison field education program. Father Stephen thanked these students for their willingness to step out of their comfort zone to work in this prison. He presented each student with a book used in prison ministry and two Icons.

Father Stephen reflected on that day: "On Tuesday morning, Father John took me into that prison. I had the chance to visit with many of the men that he and the students minister to each week. As we met with those men, the impact of Father John's ministry there became so very obvious. Man after man broke into a big smile as they saw Father John approaching them. They expressed their joy and called him by name. His love for each of them was so incredible to witness. Most people think of prison ministry as someone bringing Christ to those in prison. Father John comes to visit Jesus in prison; he sees Christ in every one of them. I believe he looks at them and sees what they could become in Christ, not judging them for their sins. I know the lives and ministries of these future Orthodox priests have been impacted greatly; their lives will never be the same."

On Wednesday afternoon, Father Stephen gave a power-point presentation to students and their families and members of the seminary faculty. The theme was two-fold: "Stepping out of your comfort zone" and "Orthodoxy in a hostile world". The presentation was very well received. He challenged those present to be willing "to step out of their comfort zones and reach out to the unlovable of our society in the very midst of this hostile world we live in."

Afterward, Father Stephen said: "Many of the students talked with me after this presentation. Each one seemed like a Divine Appointment as we talked privately together. I could sense the wonderful impact on both them and me. I have no doubts that these future priests will truly make a difference in this world for the Glory of God. As our Lord did, they also will be bringing the Gospel to the sick and needy of our society."

Father Stephen continued: "On Thursday morning I had a breakfast discussion with several students and then left for the airport with Father John. We took time to process some of what had taken place during my visit there. This turned out to be perhaps one of the most important trips I have taken for OCPM. It was an opportunity to touch the lives and ministries of many future Orthodox priests and to have my own life touched by them. This wonderful Field Education program is exactly what OCPM is all about. I am so very thankful for Father John and these seminary students. I am certain that as these men of God begin to serve parishes across the United States, they will also be reaching out to those who are in prison and those who are in desperate need of help. I hope that OCPM will be a part of Saint Tikhon's Seminary each and every year."

A gallery of photos may be viewed here.

Information on the work of Orthodox Christian Prison Ministry may be found on their website.