Registration for 18th All-American Council closes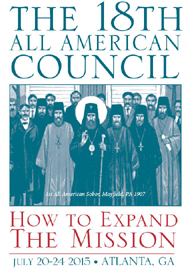 Registration for delegates, observers and youth planning to participate in the 18th All-American Council of the Orthodox Church in America in Atlanta, GA July 20-24, 2015, will close on Friday evening, July 10.

"Those who have not registered for the AAC, but who still may wish to do so, must contact the OCA Chancery directly at at http://18aac.oca.org," noted Archpriest Eric G. Tosi, OCA Secretary. "All requests for late registration must have the blessing of the participant's respective diocesan bishop."

In related matters…
All clergy are asked to include the following petition in the Litany of Fervent Supplication at all services between Saturday, July 11 and the AAC opening on July 20.
"Furthermore we pray that the Lord, our Almighty and Eternal God, Source of all wisdom and understanding, will be with us as we prepare to gather in Council, that in striving to serve and glorify Him, we may be enlightened with right judgment and good purpose, for the building up of His Holy Church to His eternal glory: we pray Thee, O Lord, hearken and have mercy."

Delegates are reminded to bring their own copies of the AAC Delegate Handbook and reports to the Council. Copies may be downloaded as posted here.
Registration will be held on the hotel's second floor.
Directions to and from the MARTA (Metropolitan Atlanta Rapid Transit Authority) Peachtree Station and the Atlanta Hilton are now available on-line. Hartsfield-Jackson Airport runs MARTA's "Gold Line" to Peachtree Station, which is within walking distance to the Hilton. The short walk can be completed indoors for those who so desire.