Statute revisions available for comments by Church-at-large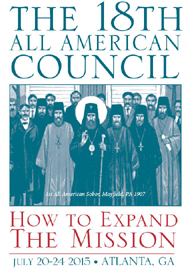 The Holy Synod of Bishops recently blessed the general release of the revised Statute of the Orthodox Church in America for general review by the Church.

The finalized revised Statute will be presented at the 18th All-American Council [AAC] in Atlanta, GA July 20-24, 2015.
The proposed revised Statute, together with a letter of introduction from the Statute Revision Task Force is available. A side-by-side comparison of the old and new versions is included.
"The faithful of the OCA are encouraged to read through the proposed revisions and submit comments for review and consideration," said Archpriest Alexander Rentel. "Comments may be submitted by e-mail to .(JavaScript must be enabled to view this email address). These will go directly to the Commission on Canons and Statutes for reply or possible consideration for inclusion into the revised text."

A section of the AAC web site for public commentary is now available. All public comments will be reviewed before posting.

"As required by the current Statute, Article XIII, Section 1, the review process will finish April 21—before 90 days prior to the beginning of the Council," Father Alexander added.

Articles on Monasticism, Definitions, and the Effective Date have yet to be completed, but will be posted in the immediate future.

With regard to feedback on the proposed text, all members and friends of the OCA are invited to read through the entire text of the Statute, since it is complex and interrelated, before making comments. All constructive and helpful comments will be considered.

"Major changes to the structure of the OCA will not be considered in this revision process, but should be put forward as future amendments, as such, comments suggesting such things will not be considered at this point," Father Alexander said. "While the Commission on Canons and Statutes will not publicize the origins of comments received via email, anonymous comments will not be considered. Comments that include hateful, profane, or blasphemous language also will not be considered. Comments should be relevant and specific to the Statute and be of a respectful nature."

All comments and suggestions will be reviewed by the Commission on Canons and Statutes after the April 21 deadline, at which point Commission members will meet to review and consider feedback and prepare the final draft.

"As required by the current Statute, Article XIII, Section 2, this final draft will be made available 60 days prior to the AAC with the recommendations of the Commission on Canons and Statutes in both the published reports for the AAC as well as in PDF format on the OCA website," Father Alexander concluded. "This final version will be voted on at a plenary session during the AAC."

Questions may be submitted to the Commission on Canons and Statutes.

Commission members include His Eminence, Archbishop Nathaniel; His Grace, Bishop Daniel; Archpriests Alexander Rentel, John Erickson and Dimitri Cozby; Priest Ioan Cozma; Judge E. R. Lanier; and Alexis Liberovsky.