Visit historic Seattle area churches on eve of All-American Council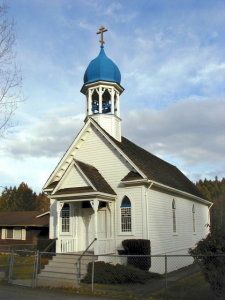 Participants in the 16th All-American Council of the Orthodox Church in America October 31-November 4, 2011, are invited to participate in two excursions highlighting some of the region's historic Orthodox Christian communities.

Both trips will depart the Council site, the Bellevue Hyatt, on Sunday, October 30, at 2:00 p.m.

A dinner trip to Holy Trinity Temple, Wilkeson, WA, will offer a glimpse into the faith and tenacity of the parish's founders, who settled in the lumber and coal mining village in the late 19th century. Holy Trinity Church was founded in the summer of 1896. Holy Trinity Temple, constructed in 1900, is the oldest in the Diocese of the West, and one of the oldest temples in the lower 48 States. It was consecrated on September 22, 1902 by Saint Tikhon, who at the time maintained his headquarters in San Francisco. Holy Trinity is on the State and National Registers of Historic Places and is maintained in pristine condition. This little gem of a building mixes Slavic Orthodox architecture with the local Victorian era style found elsewhere in the historic village.

The scenic drive to Wilkeson takes about one hour. If it is a clear day and the "mountain is out," visitors will be thrilled at its glacial beauty rising, 14,400 feet over the western Washington landscape. At the temple, a Prayer Service in honor of Saint Tikhon will be celebrated before his icon and a portion of his relics. Mr. Scott Miller, a long time member of the parish, will present a talk about the unique history of the temple and the area. On the way back to the hotel, visitors will enjoy a Pacific Northwest salmon dinner — chicken will also be available — at Anthony's Home Port restaurant on the shores of beautiful Puget Sound.

The excursion price is $50.00 per person, which includes transportation, meal and gratuities.

A second, concurrent dinner excursion will take visitors to Seattle's Saint Spiridon Cathedral. Founded in multi-ethnic diversity in 1895 by Russian and Greek immigrants and other faithful from across central and eastern Europe, Saint Spiridon Cathedral has maintained a rich, friendly spirit that incorporates and welcomes all people, both native born and newly arrived. The cathedral's dark blue landmark cupolas overlook Lake Union and the Seattle Center, with its famous Space Needle.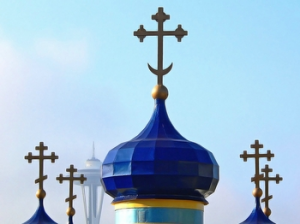 After a brief welcome to the cathedral, Archpriest Vadim Pogrebniak, rector emeritus, who served as cathedral dean for 27 years, will offer a presentation about the landmark cathedral's vibrant life throughout its 116 year history. Visitors will then travel up Seattle's Capitol Hill to Saint Nicholas Cathedral, founded in 1932 by Russians fleeing Communism. After stopping in the cathedral, they will move upstairs to the chapel, once the room of Saint John Maximovich, who offered his soul to God there in 1966. A Prayer Service will be celebrated in Saint John's Chapel. Afterward, guests will enjoy a traditional Russian dinner prepared by the cathedral Sisterhood and enjoy a program of traditional Slavic music, under the direction of Yelena Kovalsky from Saint Spiridon Cathedral.

The excursion price is $50.00 per person, which includes transportation, meal and gratuities.

Visit the All-American Council web site at http://aac16.org/ for detailed itineraries and registration. Space is limited, so early registration is encouraged.