Youth, volunteers needed at 18th All-American Council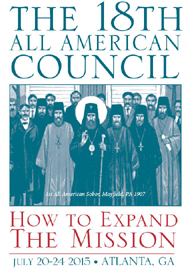 Youth from parishes across the Orthodox Church in America are encouraged to attend the 18th All-American Council [AAC] in Atlanta, GA July 20–24, 2015.

"Youth and volunteers will experience the fullness of our Church in a way that can't be described in words," said Priest Benjamin Tucci, who is overseeing the AAC's youth program. "The entire Holy Synod of Bishops and clergy and faithful from across North America will be in attendance bringing joy and glory to God. There will be an entire hotel full of Orthodox faithful worshiping, participating in Council events, and celebrating the faith. Together we will learn 'How to Expand the Mission,' the AAC theme.

"The hotel is situated in the midst of Atlanta's downtown Peachtree Center, just minutes from the airport," Father Benjamin added. " Youth and volunteers will explore the area during the daytime hours, when AAC meetings are in session. They will visit the Georgia Aquarium, which boasts one of the largest indoor aquariums in the world—large enough to host a few large whale sharks. They also will see the famous World of Coca-Cola, where youth will be able to make their own soft drinks and sample different soda pops from all over the world. They also will explore the CNN Studio."

Lunch will be provided each day and transportation will be available to and from venues that are not within walking distance.

Each morning, youth will participate in age appropriate education sessions as follows.

Pre-K—Grade 2: Parents will drop off their children for a play group similar to a Vacation Church School program and then spend the afternoon engaged in activities with their children.
Grades 3—12: Parents or chaperones will drop off youth in the morning and pick them up after the afternoon activities. Volunteers that have been trained and screened will chaperone the afternoon activities.

At the end of the week, the youth will give a presentation at an AAC plenary session.

Volunteers should register early on the AAC web site—log on to http://18aac.oca.org/registration and scroll down to the section titled "Youth" for more information. On-line training, screening and background checks will be provided at no cost and must be completed before the AAC opens. Meals and fees associated with the activities are covered by the OCA. Room costs and meals outside of the activities are not covered.

Youth attending the AAC should also register at http://18aac.oca.org/registration. There will be a participation fee for youth program events. Transportation to Atlanta, hotel fees, and meals outside of activities are the responsibility of participants. Youth will need to be chaperoned when not participating in scheduled youth program events.

Ideas for raising funds to offset AAC participation fees may be found at https://www.oca.org/the-hub/20-something/ideas-for-fundraising.

More information may be obtained by contacting Father Benjamin at .(JavaScript must be enabled to view this email address).

In related news, the Fellowship of Orthodox Christians in America [FOCA] will begin their annual National Convention on Saturday, July 18, 2015. Those interested in attending their meetings and sessions or wishing additional information may visit www.orthodoxfellowship.org. The FOCA also is planning a number of youth activities.

"Youth and adults alike are encouraged to come to the AAC early and find out more about the FOCA," Father Benjamin said. "The FOCA encourages stewardship and parish growth through participation in local and national events, such as the annual FOCA basketball tournament, the married student housing project at Saint Tikhon's Seminary, and a variety of other events and activities."