Relations between the Churches East and West
William Palmer (1811–1879), a professor at Magdalen College, Oxford, pursued a serious interest in the Russian Orthodox Church. In 1840 and 1842 he visited Russia to explore possibilities of intercommunion between the Anglican and Orthodox Churches. His work, Notes of a Visit to the Russian Church in the Years 1840, 1841, was edited by John Henry Newman and published in 1882. Palmer had a long correspondence with the important Russian lay theologian, Alexei Khomiakov. He actually inquired into being officially received into the Russian Church, but he was troubled by the fact that the Russian Church would have accepted him by chrismation while the Greek Church would have required him to be baptized. In 1855 he joined the Roman Catholic Church instead.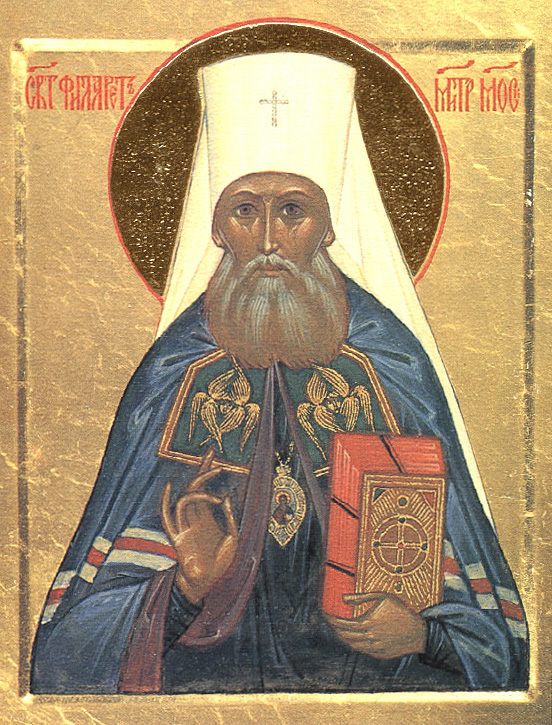 In 1848, in response to overtures directed to the Orthodox by Pope Pius IX, the Eastern Patriarchs issued an encyclical letter in which the understanding of the conciliar as well as the hierarchical nature of the Orthodox Church is clearly professed. This letter also includes a long list of Roman Catholic errors that the Orthodox have always rejected, most especially the unilateral addition of the filioque to the Nicene Creed. Signed by all the patriarchs of the Orthodox Church, together with 29 bishops, and fully endorsed by Saint Philaret, Metropolitan of Moscow, the encyclical letter of 1848 is considered to be the most authoritative doctrinal statement in modern Orthodox Church history.
In 1895, a similar encyclical letter was issued by the Patriarchate of Constantinople in response to a similar overture by Pope Leo XIII (r. 1878–1903).