Russia: Missionary Activity
Siberia
The nineteenth century in Russia, as in the West, was a missionary century. The priest Makary Glukharev (1792–1847) dedicated his life to the evangelization of the Siberian tribes. The lay professor, Nikolai Ilminsky (1822–1892), translated the Scriptures and Church books of the Orthodox Faith into some of the languages of these peoples. The theological academy founded in 1842 in Kazan, at the 'Gateway to Siberia,' became the center of the missionary activity of the Russian Church to the animistic Siberian tribes (some of whom were being converted to Buddhism by monks from Tibet), and to the Muslims living in the south-central parts of the Russian Empire. In the Kazan area alone, in 1903, the Divine Liturgy was celebrated in 22 different languages or dialects.
Japan
The first Russian missionary to Japan, Saint Nikolai Kasatkin of Japan (1836–1912), spent six years mastering the Japanese language, and proceeded to convert thousands of Japanese to the Orthodox Faith—despite several periods of persecution by the Japanese government. At his death, as Japan's first Orthodox bishop, he left a self-governing local church of about 33,000 members, with the Scriptures and liturgical books in the native language, and a number of native pastors. The impressive stone cathedral he had built in Tokyo, affectionately called Nikolai-Do (Nikolai's house), still is a prominent architectural presence in the city.
Alaska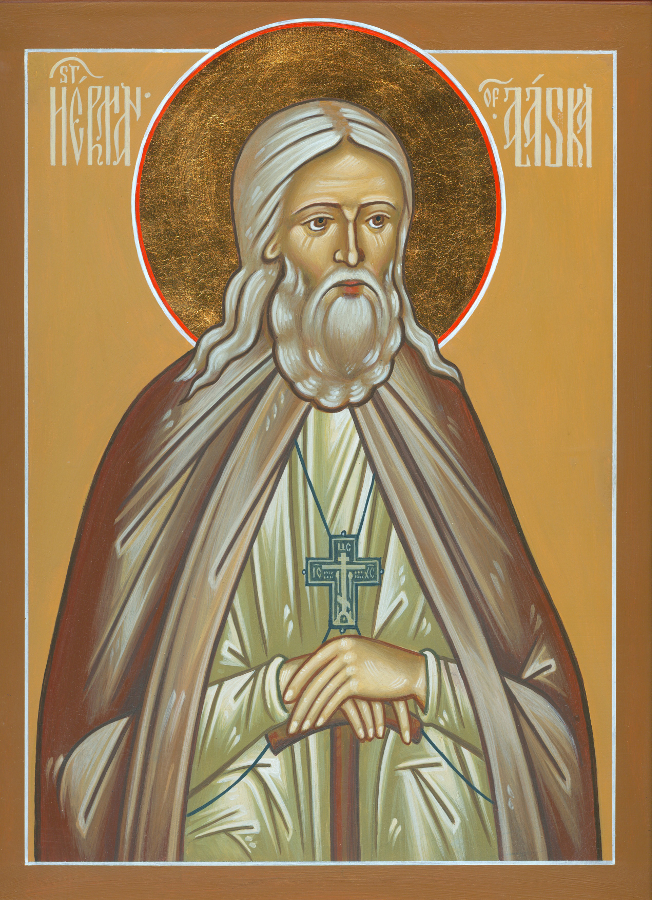 In 1970, the Orthodox Church in America glorified its first saint: Saint Herman of Alaska (c. 1758–1837), who was one of the first ten monastic missionaries who arrived on Kodiak Island in 1794. The memory of his extraordinary holiness, expressed by his self-emptying love and care for the Alaskan people—especially in the face of exploitation and abuse of the natives by the Russian-American (fur-trading) Company—and by various miracles accomplished through his prayers, had been kept strongly alive by the descendants of the Aleuts with whom he lived and labored in Kodiak and on nearby Spruce Island.
From Saint Herman's conversation with 25 Russian naval officers
"And do you love God?" the Elder then asked.

All replied: "Of course, we love God. How can one not love God?"

"And I, a sinful one, for more than forty years have been striving to love God, and I cannot say that I perfectly love Him," answered Father Herman; and he began to show how one should love God, "If we love someone," he said, "we always think of him, strive to please him, and day and night our heart is occupied with this. Is this the way you, gentlemen, love God? Do you often turn to Him, do you always think of Him, do you always pray to Him and fulfill His holy commandments?" It had to be acknowledged that they did not!

"For our good, for our happiness," concluded the Elder, "at least let us make a promise to ourselves, that from this day, from this hour, from this minute we shall strive to love God above all, and fulfill His holy will!"

Behold what an intelligent, superb conversation Father Herman conducted in society. Without doubt this conversation must have imprinted itself on the hearts of his listeners for their whole life!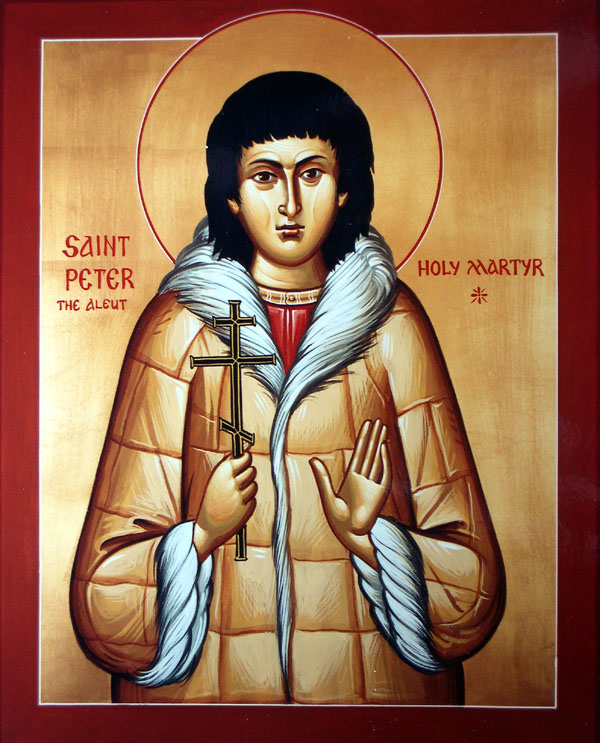 Saint Peter the Aleut was a young Aleut Orthodox Christian working for the Russian-American Company. He was one of a party of fourteen fur-hunters sailing near San Francisco whose boat was commandeered in 1815 by the Spanish authorities in the area. Imprisoned by the governor, and threatened with death by the Roman Catholic priest at the mission there if they did not accept Catholicism, all the Aleuts remained true to their Orthodox Faith. According to the eyewitness account of one of these Aleuts, Peter was then cruelly tortured until he died from loss of blood. (The others then were released.) Canonized in 1980 by the Orthodox Church in America, Saint Peter is the first Orthodox martyr of the lower 48 states.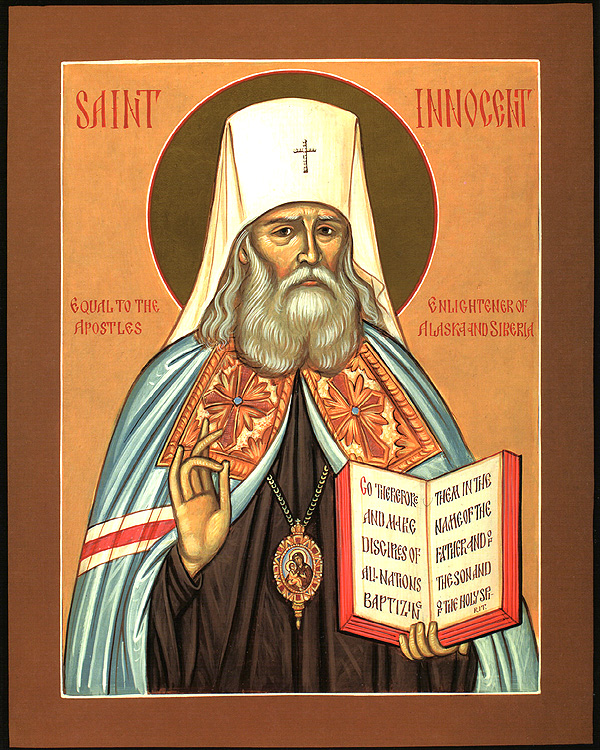 In 1977, Father John Veniaminov (1797–1879) was glorified as a saint by the Church of Russia as "Saint Innocent of Moscow, Enlightener of the Aleuts and Apostle to America." As a young priest, he traveled from Irkutsk in central Siberia with his pregnant wife, his son, his mother-in-law, and his brother to begin mission work on the island of Unalaska in the Aleutian chain in 1824. During his pastoral ministry there, after first creating an alphabet for the Aleut language out of Slavonic characters, he translated a number of Scriptural and liturgical texts into the Aleut language. He also wrote a lengthy catechetical book in the Aleut language and in Russian, called The Indication of the Way to the Kingdom of Heaven.
Saint Innocent was a very fine administrator, carpenter, clock and organ maker, and naturalist, besides being a superb teacher, linguist, and pastor. In 1840, one year after his wife Catherine died, he became the first Bishop of Kamchatka and the Aleutian Islands, with his headquarters in Sitka, Alaska, where he built Saint Michael's Cathedral and a seminary. As bishop he made pastoral journeys of many months and thousands of miles by kayak and dogsled to visit the widely scattered communities of his far-flung diocese. In 1867 he was elected Metropolitan of Moscow. As metropolitan, he continued his interest in mission work by establishing the Russian Missionary Society to raise funds for the support of missions.
At the time of the sale of Alaska to the United States in 1867, Saint Innocent recommended that all the clergy who did not know the English language be sent home and replaced by those knowing English, and he urged that English be the standard language of the Orthodox Church in America. He urged that seminaries be established for training American-born men to become priests, and he recommended that the headquarters of the Church in America be moved from Sitka to San Francisco. All of this reveals his vision for the growth of Orthodoxy in North America as an indigenous, English-speaking Church.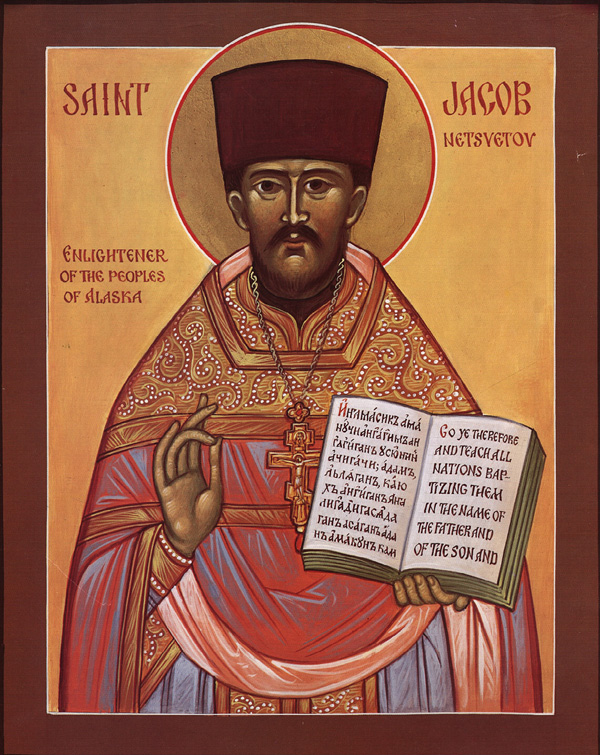 Saint Jacob Netsvetov (1802–1864) was another outstanding missionary-priest in Russian America. Born to a Russian father and an Aleut mother, he became the first native American to be ordained as an Orthodox priest, upon his completion of seminary training in Irkutsk. Sent back to the island of Atka, his birthplace, in the western Aleutian Archipelago, for 17 years he faithfully ministered there and all across his far-flung "parish" stretching for 2000 miles all the way to the Kurile Islands of northern Japan.
In 1844/1845, when Bishop Innocent opened the Mission to the lower Yukon Delta and Kuskokwim River Basin of the Alaskan mainland, he entrusted it to Saint Jacob, who labored for 18 years among the Eskimo and Athabascan peoples. Like his mentor Saint Innocent, Saint Jacob was an excellent linguist, translator, and naturalist. A major highlight of his ministry, as recorded in his fascinating journal, was his success in 1852 among the Athabascan Indians along the Innoko River, when he baptized hundreds and narrowly averted a tribal war. In "retirement" he ministered to the Tlingit Indians in the area around Sitka, where he died.
Kronstadt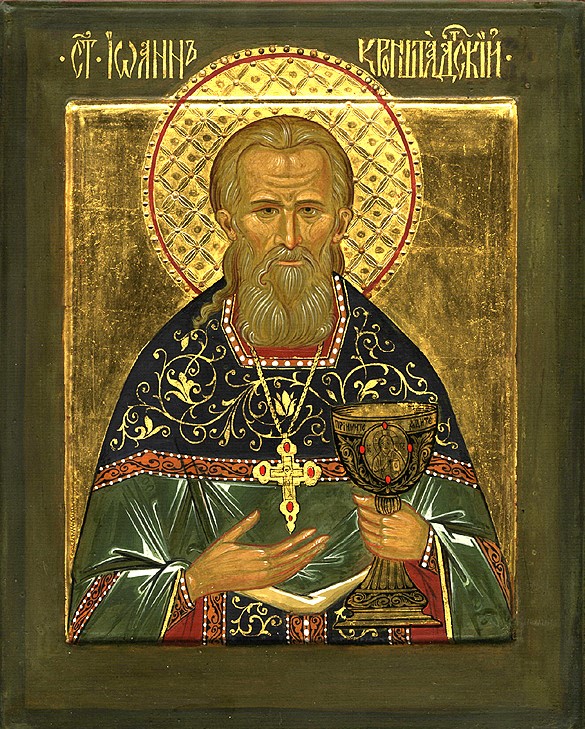 Saint John of Kronstadt (1829–1908) was an outstanding example of what can be called a "home missionary." Originally he wanted to be a missionary to eastern Siberia, but he came to realize that there were many in his own region around Saint Petersburg who were very poor and very much in need of the Church's ministry to soul and body. As a parish priest in the naval city of Kronstadt across the bay from Saint Petersburg, he became famous throughout Russia as a brilliant preacher, healer of the sick, protector of orphans and the poor, teacher of children, ardently loving pastor of his flock, faithful servant at the altar (serving Liturgy every day, at which up to 5000 would attend, necessitating the practice of group confession), and prophet to the nation. His insistence on regular participation in the holy sacraments by those who came to pray with him in his parish helped lead to the Eucharistic revival among Russian Orthodox Christians in the 20th century.
The famous "House of Industry" which Saint John founded in Kronstadt included a free elementary school, a carpentry teaching-workshop, a drawing class, a women's workshop for sewing, a workshop for shoemaking, a library for children, a zoological collection, a military gymnasium, and a bookshop for children and adults. His powerful and insightful spiritual counsels, as given in his diary, have been published with the title My Life in Christ.