Psalm 76
Pray and make your vows before the Lord our God!
In Judah God is known; His name is great in Israel!
Psalm 76:11, 1 (Sunday Prokeimenon, tone 8)
These prokeimenon verses are also used this weekend for Forgiveness Sunday (Slavic practice), the 5th Sunday of Lent (Greek practice) and the 5th Sunday after Pascha (Slavic practice). Verse 2 is part of the first antiphon for the Dormition of the Mother of God: "His abode has been established in peace, his dwelling place in Zion." (This is the Septuagint version, which substitutes "peace" for "Salem.")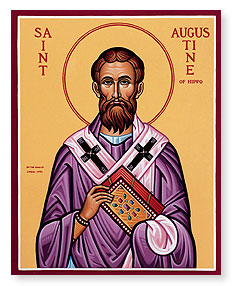 In his commentary on Psalm 76:11, Saint Augustine speaks extensively about the meaning of vows.
Let each person vow what he is able, and pay it. Do not vow and not pay: but let every person vow, and pay what he can. Do not slow to vow: for you will accomplish the vows by powers not your own. You will fail, if on yourselves you rely: but if on Him to whom you vow you rely, you will be safe to pay. …

What ought we all in common to vow? To believe in Him, to hope from Him for life eternal, to live godly according to a measure common to all. For there is a certain measure common to all men. To commit no theft is not a thing enjoined merely upon one devoted to continence, and not enjoined upon the married woman: to commit no adultery is enjoined upon all: not to love wine-bibbing, whereby the soul is swallowed up, and corrupts in herself the Temple of God, is enjoined to all alike: not to be proud, is enjoined to all alike: not to slay man, not to hate a brother, not to lay a plot to destroy any one, is enjoined to all in common. The whole of this we all ought to vow.

There are also vows proper for individuals: one vows to God conjugal chastity, that he will know no other woman besides his wife: so also the woman, that she will know no other man besides her husband….Others vow even virginity from the beginning of life, that they will even know no such thing as those who having experienced have relinquished: and these have vowed the greatest vow. Others vow that their house shall be a place of entertainment for all the Saints that may come: a great vow they vow. Another vows to relinquish all his goods to be distributed to the poor, and go into a community, into a society of the Saints: a great vow he vows. … Let each one vow what he shall have willed to vow; let him give heed to this, that he pay what he has vowed…

Godly behavior
These are the things that you shall do: Speak the truth to one another, render in your gates judgments that are true and make for peace, do not devise evil in your hearts against one another, and love no false oath, for all these things I hate, says the Lord."
Joyful Fasting
And the word of the Lord of hosts came to me, saying, "Thus says the Lord of hosts: The fast of the fourth month, and the fast of the fifth, and the fast of the seventh, and the fast of the tenth, shall be to the house of Judah seasons of joy and gladness, and cheerful feasts; therefore love truth and peace."
(Zechariah 8:16-17,18-19)
Update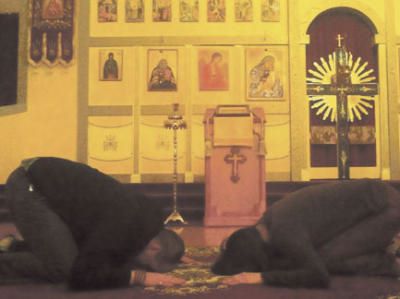 His Beatitude heads to Washington DC later this morning for the Cheesefare celebration ("maslenitsa") at the Russian Embassy tonight (with Father Leonid Kishkovsky) and to preside at Saturday Vigil and Forgiveness Sunday Divine Liturgy.
There is always a long to-do list at the office and unexpected calls and crises of one kind and another, but like everyone else in the Orthodox world, we are all attempting to shift our focus toward the beginning of Great Lent.
Please forgive me if I have offended you in any way.
Brethren, let us purify ourselves
from all stain of flesh and spirit.
Let us illumine the lights of our souls through love of poverty!
Let us not slander one another with curses!
For the time has come
when the Bridegroom renders to each according to his works.
Let us greet Christ with the wise virgins,
crying to Him with the voice of the thief:
Remember us, Lord, when You come in Your kingdom!
(Cheesefare Friday, Matins, Aposticha)