Words That Won't Go Away
Heaven and earth will pass away, but My words will by no means pass away.(Luke 21:33)
Isn't it extraordinary that words spoken by Jesus more than 2000 years ago continue to shape the lives of people from almost every culture and walk of life on earth? After all the cataclysms of history, emerging from the rubble like a tree that refuses to die these words are what give depth and meaning to millions. Professor Peter Brown's main point the other night in his Schmemann lecture at Saint Vladimir's Seminary was that the spread of Christianity in the early centuries was never understood to embrace the majority of people. At least not until well after Constantine when church, state and society became thoroughly intertwined. Until then it was enough that the word of the Cross was simply present everywhere as a witness, even if among a few, like tiny, crazy candles that won't blow out—as the freedom to resist powers of darkness, enslavement, death. And whether others accepted this or not, there has never been a time since then when Christ was left without witnesses. People like you and me ready to say yes—for all its foolishness, this is the Word, these are the words and the way of life I choose.
OCN Interview and Monks of Holy Cross Monastery at the Chancery
The Orthodox Christian Network interviewed Metropolitan Tikhon yesterday afternoon for a series of brief podcasts for the Sundays of Great Lent. For those of you who aren't familiar with OCN, it is an agency of the pan-Orthodox Assembly of Bishops and was established to create effective media witness for the Orthodox Christian Church in North America. It produces high-quality programs and media tools for local parishes using radio, the Internet, podcasts, DVDs, television and more (see www.myocn.net/index.php/About-OCN.html.)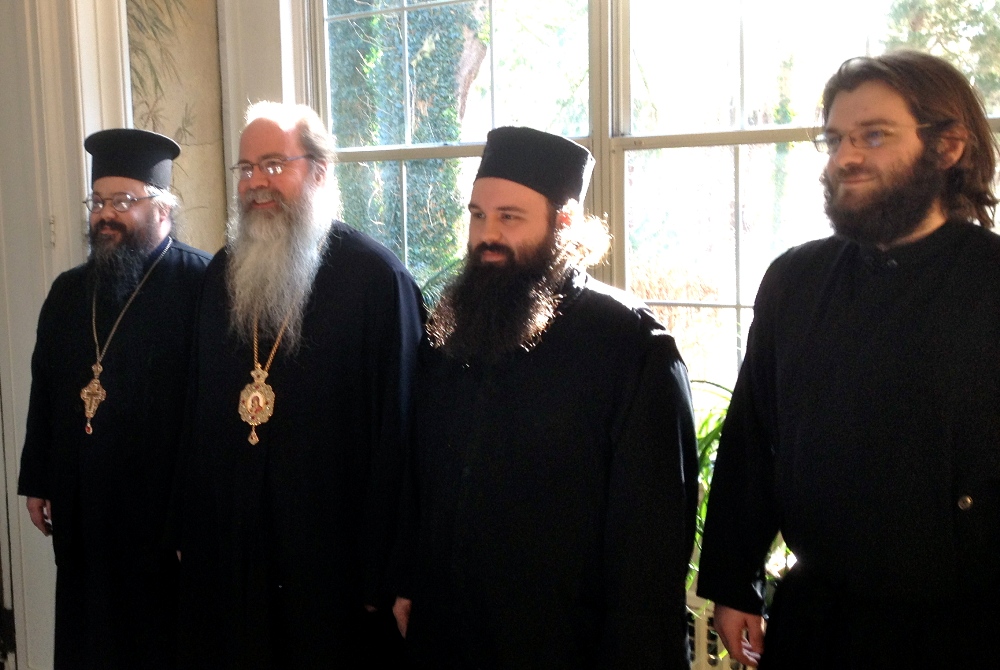 Earlier in the day yesterday, Archimadrite Maximos (Weimar), abbot of Holy Cross Monastery (Russian Orthodox Church Outside of Russia) in neighboring East Setauket, NY stopped by the Chancery with three of the brothers from the monastery to deliver an order of candles. Metropolitan Tikhon took the opportunity to meet with them and hear about the monastery and its work. There are currently nine monks and they have a small parish community serving about 50-60 people (see http://holycrossmonasterysetauket.blogspot.com/p/candle-making.html).
We spent quite a bit of time at the end of the day going over His Beatitude's demanding schedule for the next few days, and how to squeeze-in important conversations among the bishops before their formal meeting on Monday.
Metropolitan Tikhon normally tries to take Wednesdays off, but as you can see, that plan isn't working smoothly yet. I shouldn't have to explain that even metropolitans need regular time to step back, rest, take walks, reflect and take care of things like moving in to a new apartment.
But he won't be able to rest today. He and the OCA's bishops (and some of the Chancery staff) are making their way to Washington DC. At 3:00 pm we're due at the hotel, and then at 4:00 pm we have a meeting with Congressman Chris Smith of New Jersey, senior member of the House Foreign Affairs Committee, who has a special interest in sanctity of life, human trafficking and most recently the adoption of Russian children by Americans. He will be going to Russia in the next few weeks to discuss this issue with the Russian government.