Acts 28:17-22 "Spoken Against"
17 After three days he called together the local leaders of the Jews; and when they had gathered, he said to them, "Brethren, though I had done nothing against the people or the customs of our fathers, yet I was delivered prisoner from Jerusalem into the hands of the Romans. 18 When they had examined me, they wished to set me at liberty, because there was no reason for the death penalty in my case. 19 But when the Jews objected, I was compelled to appeal to Caesar—though I had no charge to bring against my nation. 20 For this reason therefore I have asked to see you and speak with you, since it is because of the hope of Israel that I am bound with this chain." 21 And they said to him, "We have received no letters from Judea about you, and none of the brethren coming here has reported or spoken any evil about you. 22 But we desire to hear from you what your views are; for with regard to this sect we know that everywhere it is spoken against."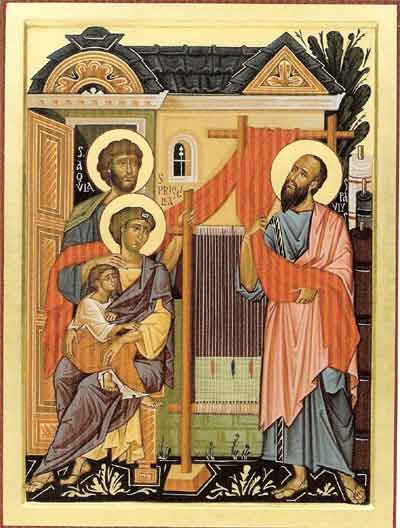 Paul has the opportunity for a fresh start with the Jewish community in Rome because they haven't yet heard about him or his troubles with the leadership in Jerusalem. This isn't surprising since his ship was probably one of the first to arrive after the winter. But the Jews in Rome did know something about the Christians, who by this time were regarded as an odd and troubling community. In fact there is speculation that Emperor Claudius expelled the Jews from Rome in 49AD precisely because of some stir involving these Christians. In his Life of Claudius the Roman historian Suetonius (c. 70-130 AD) says, "As the Jews were making constant disturbances at the instigation of Chrestus, [Claudius] expelled them from Rome."
Whether this describes Christians is debated, but it's true that the Jews were expelled. This was how Paul met Aquila and Priscilla who had moved to Corinth, a Roman colony (Acts 18:2). In general there was a lot of back and forth between Corinth and Rome. Long before Paul ever got to Rome he already had many friends there, as we see from the long list of greetings in Paul's letter to the Romans, chapter 16 (written from Corinth.) Besides Priscilla and Aquila he mentions 27 people by name. So by the time Paul reached Rome, the Christian community was quite strong and he had many personal connections.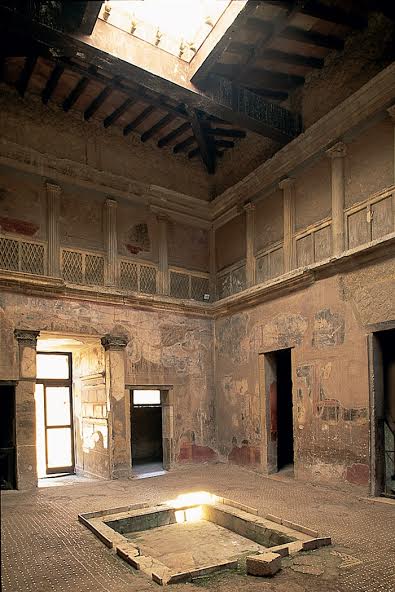 In describing Paul's encounter with his fellow Jews in Rome Saint Luke is consciously harkening back to Simeon's encounter with the child Jesus in Luke 2.
"Lord, now lettest Thou Thy servant depart in peace,
according to Thy word;
for mine eyes have seen Thy salvation
which Thou hast prepared in the presence of all peoples,
a light for revelation to the Gentiles,
and for glory to Thy people Israel."

And His father and His mother marveled at what was said about Him; and Simeon blessed them and said to Mary His mother,

"Behold, this Child is set for the fall and rising of many in Israel,
and for a sign that is spoken against
(and a sword will pierce through your own soul also),
that thoughts out of many hearts may be revealed."
(Luke 2:29-35)
Simeon recognizes that in Jesus God is bringing the glory of Israel to the Gentiles, in fulfillment of the prophecies of Hebrew Scripture. But Jesus—like his disciples after him—will also be "a sign that is spoken against."
Further Thoughts From Diocesan Chancellors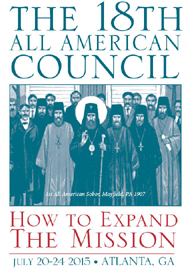 Here are more views from diocesan chancellors on the challenges facing the Orthodox Church in America as we go to Atlanta for the 18th All-American Council, July 20-24. Diverse thoughts on mission, proportional giving, funding the central church, collegiality and civility, ethnic dioceses, clergy and parish health, and the vision of being Orthodox in North America.
We're never going to be a mega-church on this continent. People want churches that adapt to and bless their lives as they are and we don't do that. We insist on the truth, and that's hard. So we need to study where new missions belong and give them time to mature before we assign a priest. In our diocese we have a number of steps.
We look carefully at the location to consider the demographics, presence of other Orthodox jurisdictions, probability of population growth.
We first establish a "chapel community" under the auspices of an established parish that's not too far away.
We minister as best we can to the chapel community, using clergy who are retired or who have other full-time work.
Over time we monitor how that community is doing and when it might be ready for possible expansion and assignment of a priest. This gives us a chance to test the real commitment of this group of people.
What I've missed is the sense of collegiality among the colleagues, that you can be with them without being judged. On top of this we need to police ourselves better on the appropriate use of social media. Are we using it with grace and kindness, or by being vile to each other? There's too much of that, especially public disparaging of bishops and administration. Where is the professional courtesy, not even to speak of Christian civility?
I'm hearing from a wide variety of priests and lay leaders that one of the biggest structural deficiencies in the OCA is our ethnic dioceses. Until the ethnic dioceses become fully integrated into the OCA—and not just financially—we are not truly a model of what an autocephalous church can be.
Biggest challenge? There's nothing really new, it's stuff we're dealing with perennially, like the funding question. Frankly, the "Christian stewardship" model, the "Protestant tithing" type of approach is unrealistic with the parishes we have. Our constituency mainly wants to fund the church minimally. Percentage giving doesn't reach them and its not the best way and it's not equitable because those who do give proportionally will be giving more than those who don't. And therefore the proportion-giving people, parishes and dioceses will be funding a bigger percentage of the OCA than the rest, at least for a while. And that's not fair. It's also artificial. Whether you call it an assessment or a tithe or a proportional gift or stewardship, it still boils down to being a tax. The most equitable system is still the per person assessment. Every person then funds the central church in the same way. The truth is that there are parishes that don't want to fund the diocese either and resent every dollar they send outside their own parish. Unfortunately, some of the dioceses have unrealistically low assessments for their own diocesan needs, so no wonder they complain that they are paying too high a percentage to the central church. But if you're only collecting $35 for the diocese what do you expect? In our diocese we have a reasonable figure that allows us to fund necessary diocesan work as well as cover central administration.
We've tried various church growth programs in the diocese over a number of years. I have a high regard for the people involved but the results are disappointing. Some things about all this are beyond our control, given many societal factors. But I have to admit that part of the problem we have to accept for ourselves is burned out and apathetic clergy. I also know how these burned out priests have gotten beaten up over the years, emotionally and financially. I can be compassionate, but then they should think about retiring. Only they can't retire because they have no resources. There are places where nothing is happening, where all the parishioners are 60+. You need a core of people to get it working. A burned out priest surrounded by burned out people trying to pull the engine doesn't work. I think we need to consolidate parishes, ensure that we can have full-time priests and focus on re-missioning old time parishes rather than just planting new missions.
There's a creative tension between longing for the past while also having to redefine ourselves. How can we transform the present culture while still being faithful to the tradition? They passed the baton to us and we have to pass it to next generation. Father Alexander Schmemann called the controversy over our autocephaly "a meaningful storm." We have to keep holding up the banner of what we are and the vision for what can be in America. If this vision Metropolitan Leonty expressed, and the unique American qualities which he saw here, coming to America as an immigrant in 1907—its fast pace, energy, collaborative spirit—if he recognized this, how much more is that true now as we are rooted even deeper in America. We must not try to create a culture within a culture, that's sectarianism. Our aim is to transform culture, engage with it while sticking firmly to our faith and piety.