Acts 27:1-44 Safe in the Company of the Saints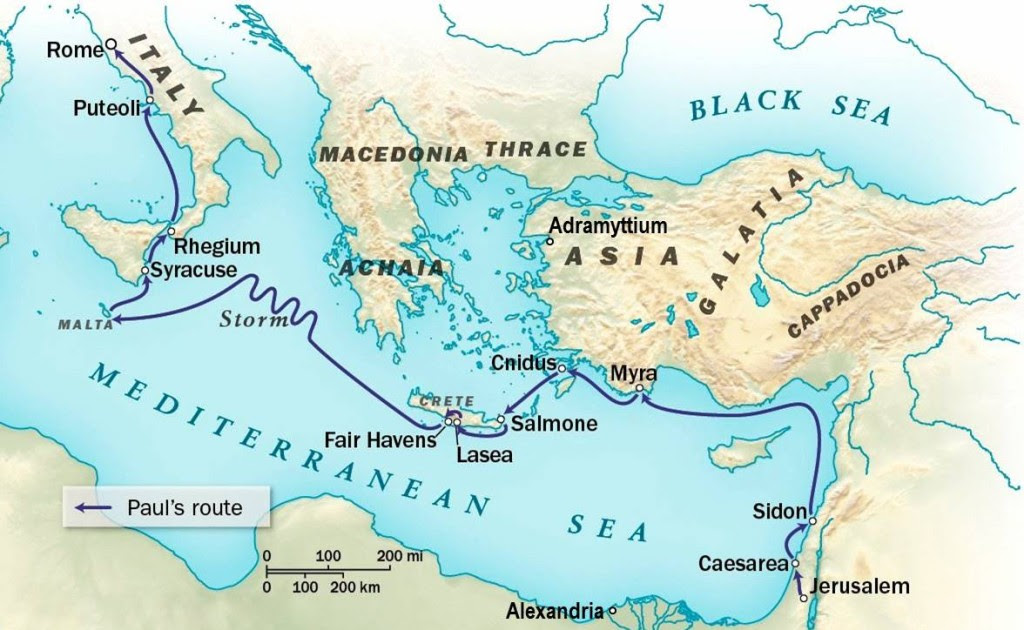 18 As we were violently storm-tossed, they began the next day to throw the cargo overboard; 19 and the third day they cast out with their own hands the tackle of the ship. 20 And when neither sun nor stars appeared for many a day, and no small tempest lay on us, all hope of our being saved was at last abandoned. 21 As they had been long without food, Paul then came forward among them and said, "Men, you should have listened to me, and should not have set sail from Crete and incurred this injury and loss. 22 I now bid you take heart; for there will be no loss of life among you, but only of the ship. 23 For this very night there stood by me an angel of the God to whom I belong and whom I worship, 24 and he said, 'Do not be afraid, Paul; you must stand before Caesar; and lo, God has granted you all those who sail with you.' 25 So take heart, men, for I have faith in God that it will be exactly as I have been told. 26 But we shall have to run on some island."…

33 As day was about to dawn, Paul urged them all to take some food, saying, "Today is the fourteenth day that you have continued in suspense and without food, having taken nothing. 34 Therefore I urge you to take some food; it will give you strength, since not a hair is to perish from the head of any of you." 35 And when he had said this, he took bread, and giving thanks to God in the presence of all he broke it and began to eat. 36 Then they all were encouraged and ate some food themselves. 37 (We were in all two hundred and seventy-six persons in the ship.) 38 And when they had eaten enough, they lightened the ship, throwing out the wheat into the sea.

Roman ship

39 Now when it was day, they did not recognize the land, but they noticed a bay with a beach, on which they planned if possible to bring the ship ashore. 40 So they cast off the anchors and left them in the sea, at the same time loosening the ropes that tied the rudders; then hoisting the foresail to the wind they made for the beach. 41 But striking a shoal they ran the vessel aground; the bow stuck and remained immovable, and the stern was broken up by the surf. 42 The soldiers' plan was to kill the prisoners, lest any should swim away and escape; 43 but the centurion, wishing to save Paul, kept them from carrying out their purpose. He ordered those who could swim to throw themselves overboard first and make for the land, 44 and the rest on planks or on pieces of the ship. And so it was that all escaped to land.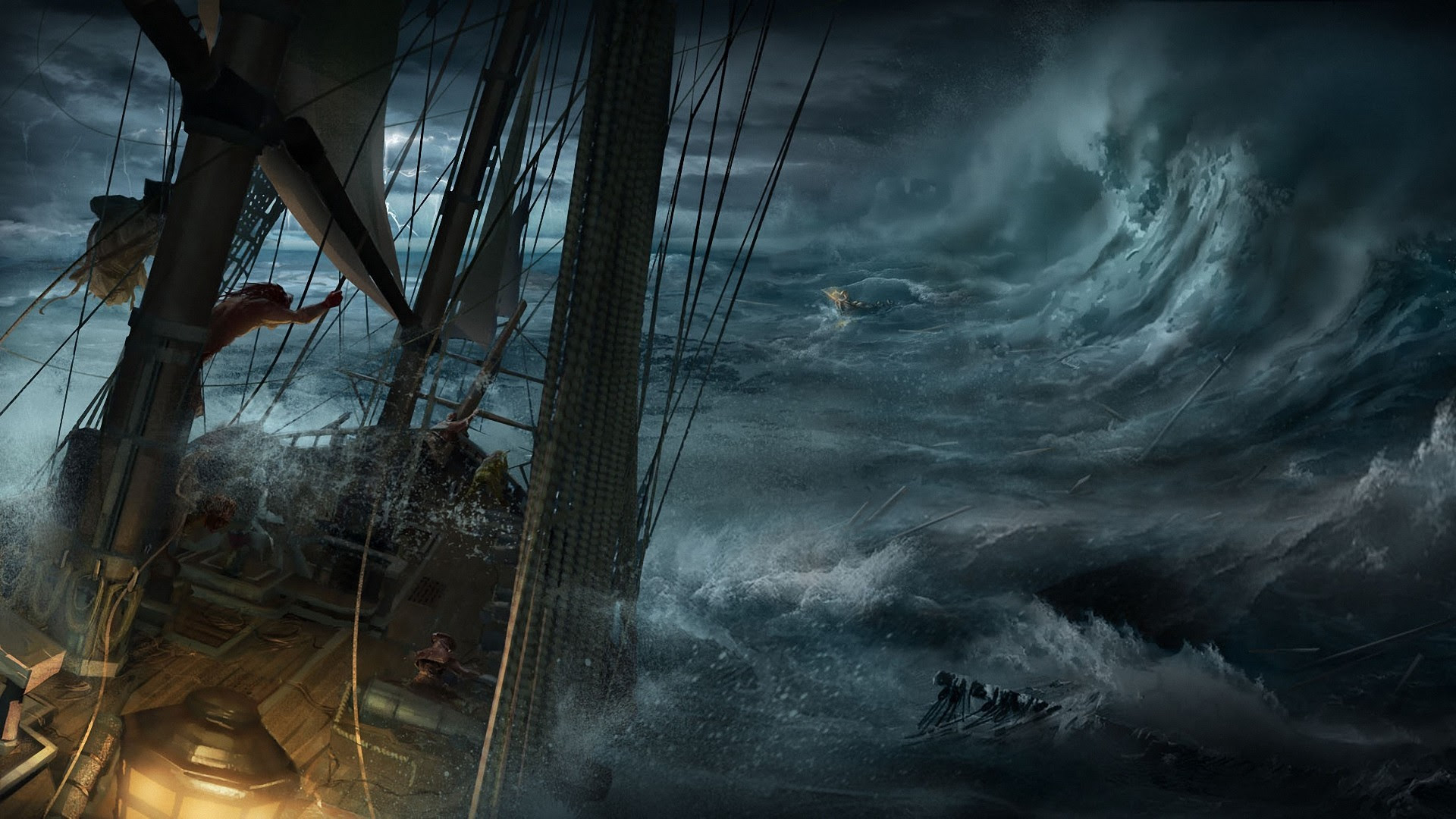 Acts 27 is a harrowing account of Paul's journey by sea from the coast of Asia Minor to shipwreck on Malta. Some 276 people were on board, including soldiers, sailors and prisoners bound for Rome, with the Paul, Luke and Aristarchus among them. After violent storms and fourteen days adrift at sea the ship broke apart on a rocky shoal. Paul and the prisoners narrowly escaped being killed first by the sea and then by the soldiers.
Despite his status as a prisoner, throughout the frightening trip Paul is clearly a leader, praying, advising and encouraging the centurion Julius and the prisoners. The lesson that Saint John Chrysostom sees here is that we are safest when in the company of the saints. And he doesn't just mean the saints of ancient days. He urges his listeners to seek out the holy people of today, visiting them and inviting them into our homes. Thus we will absorb how to be peaceful and safe even in the midst of storms.
* * *
…Righteous men, though they may be in a tempest, or on the sea, or in the deep, suffer nothing dreadful, but even save others together with themselves. If here was a ship in danger and suffering wreck, and prisoners were saved for Paul's sake, consider what a thing it is to have a holy man in a house: for many are the tempests which assail us also, tempests far more grievous than these natural ones, but He can also give us to be delivered, if only we obey holy men as those in the ship did, if we do what they enjoin. For they are not simply saved, but themselves also contributed to other men's believing. Though the holy man be in bonds, he does greater works than those who are free…

So is it now: let us keep the saints near us, and there will be no tempest: or rather, though there be a tempest, there will be great calm and tranquillity, and freedom from dangers…Where the feet of saints step, there will be nothing painful; and if such should happen, it is for proving us and for the greater glory of God. Accustom the floor of your house to be walked by such feet, and an evil spirit will not set foot there. For as where a sweet odor is, there a bad odor will not find place: so where the holy oil is found, there the evil spirit is choked, and it gladdens those who are near it, it delights, it refreshes the soul. Where thorns are, there are wild beasts: where hospitality is, there are no thorns: for almsgiving having entered in, more keenly than any sickle it destroys the thorns, more violently than any fire. Be not afraid: the evil one fears the footsteps of saints, as foxes do lions. For "the righteous," it says, "is as bold as a lion." (Proverbs 28:1) Let us bring these lions into our house, and all the wild beasts are put to flight, the lions not needing to roar, but simply to utter their voice. For not so much does the roaring of a lion put the wild beasts to flight, as the prayer of a righteous man puts to flight evil spirits: let him but speak, and they cower.

And where are such people now to be found, you will say? Everywhere, if we believe, if we seek, if we take pains. Where have you looked, tell me? When did you take this work in hand? When did you make this your business? But if you seek not, marvel not that you do not find. For "he that seeks finds" (Matt 7:7), not he that seeks not. Listen to those who live in deserts: away with your gold and silver. Such holy people are to be found in every part of the world. Though you receive not such people into your house, yet go to them, live with them, be at their dwelling-place, that you may be able to obtain and enjoy their blessing. For a great thing it is to receive a blessing from the saints. Let us be careful to obtain this, that being helped by their prayers we may enjoy mercy from God, through the grace and loving-kindness of His only-begotten Son, with Whom to the Father and the Holy Spirit together be glory, might, honor, now and ever, and unto ages of ages. Amen.
(Saint John Chrysostom, On Acts, Homily LIII)
Update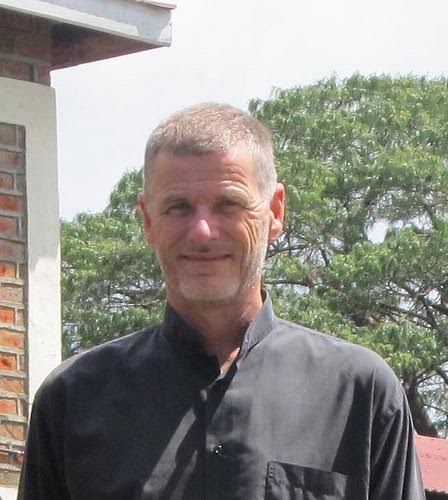 I'll be at Saint Vladimir's Seminary this morning to meet Father John Behr, Father Chad Hatfield and an old friend, Dr. William Black. He is now a specialist in Church History teaching in Nairobi, Kenya under the auspices of the Orthodox Christian Mission Center.
The Pension Board has its quarterly meeting today at the Chancery. Archbishop Nikon is the Episcopal Moderator and members include Mr. John Sedor, Father John Zdinak, Father Gleb McFatter, Father 
Matthew Tate, 
Mr. Barry Gluntz
and Mr. Theodore Bazil.
* * *
Continuing the series of comments I received from diocesan chancellors, here is a sampling of their thoughts on the weaknesses and challenges we face in expanding the mission of the Orthodox Church in America.
Even to ask the question, "what are our weaknesses" is already a strength. "When I am weak, then I am strong." I hope our church continues to be weak, because then it is at the Cross. And then it is the Holy Spirit who gives us direction.

We need to be less isolationist and to identify more with other Orthodox churches around the world. Get outside our parochialism and get outside our comfort zone. This needs to happen on the parish level as well to reach out to the community and go to the highways and byways, as Jesus insisted we do.

There's a loss of confidence in having a sense of mission. A loss of fervor about mission to America. We tend to see only our difficulties and problems, but if we don't believe in our own mission no one else will. There's a danger of becoming parochial at every level: parish, diocesan, national, jurisdictional. There's a temptation to wring our hands rather than getting on with it.

Declining membership, especially in the Northeast and Midwest. Small parishes, while positive in some ways, make it hard for youth to connect, especially as they get older. Those social linkages keep youth involved. Regarding youth, the budget of the central church was pared too far: we need a fulltime youth director and youth directors at every level: parish, deanery, diocese.

How do we prepare priests to be pastors in today's complex environment? How to deal with new issues? It's difficult to be a pastor and to prepare and care for pastors. There's carnage out there, and how many fall by the wayside.

How do we answer on a regular basis the questions put to us by culture, by our own people living in this culture? What is our response to American culture?

We need to be a counter culture. See humanity in everyone. This caring is what gets people's attention.

We are trying to reverse trends in shrinking parish numbers, and to be positive, but I'm very concerned about small and dwindling parishes, the welfare of priests and their families and especially of newly ordained seminarians. I'm going to face a challenge about what we're going to do with this. The number of parishes under 50 members is scary. The demographics are scary. The sheer economics of paying for health plans is breaking the backs of these people. How will small parishes survive? How do we service them? We have to come to terms with mergers and closures. We have more and more parishes being served by substitute clergy. They're not going to grow. I don't want to be a diocese where 90% of the clergy are bi-vocational. And with what diocesan structure? Because the admin cost to support a diocese is huge, relative to the number of parishes we have and their numbers.

How can we fund our church so that it is healthy? The current attempt is a step forward but North America has such abundance. Are we willing to support stewardship to enable the Church to do its work? This is a symptom of decline in many parts of the church.

Priests are under tremendous pressure, especially in their early years. You're really dependent on producing your own fruit. And your livelihood is tied to church growth. We're asking them to do a lot. This can be stressful over time, as a priest balances all this with family life and often other work. Not everyone has the gift of doing this and taking the initiative to get a community off the ground and putting up a building etc. At the start the priest needs to organize almost all the activities in small churches. We don't have "program sized churches" where the priest can just be the manager. We need well-rounded men who can survive and prosper in this kind of environment.

To be a pastor today is much more difficult than in years past. We must be even more careful therefore about who we choose, how we form them and how we mentor them. Seminarians need to hear from experienced priests about what they are facing now.