Postfeast of the Ascension
Psalm 110
The Lord said to my Lord, "Sit at my right hand,
until I make thine enemies thy footstool."…

Out of the womb before the morning star have I have begotten thee.
The Lord has sworn and will not change his mind,
Thou art a priest for ever, after the order of Melchizedek.
—Psalm 110: 1, 3-4 (LXX)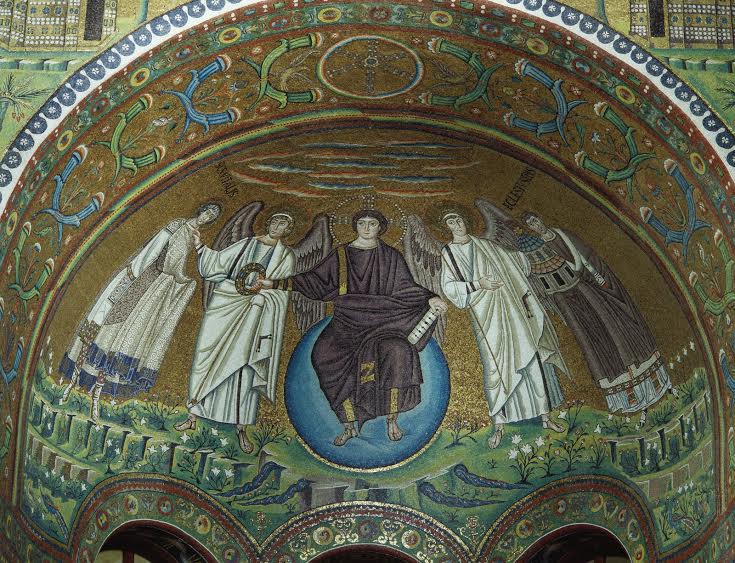 Psalm 110:1 is the most frequently quoted Old Testament verse in the New Testament. Jesus cites it to stump the Pharisees.
Now while the Pharisees were gathered together, Jesus asked them a question, saying, "What do you think of the Christ? Whose son is he?" They said to him, "The son of David." He said to them, "How is it then that David, inspired by the Spirit, calls him Lord, saying,


'The Lord said to my Lord,
 Sit at my right hand, 
till I put thy enemies under thy feet'?

If David thus calls him Lord, how is he his son?" And no one was able to answer him a word, nor from that day did any one dare to ask him any more questions. (Matt 22:41-46)
Peter quotes the same verse on the day of Pentecost to point to Jesus as the prophesied Messiah and Lord who sits at the Father's right hand.
"Brethren, I may say to you confidently of the patriarch David that he both died and was buried, and his tomb is with us to this day. Being therefore a prophet, and knowing that God had sworn with an oath to him that he would set one of his descendants upon his throne, he foresaw and spoke of the resurrection of the Christ, that he was not abandoned to Hades, nor did his flesh see corruption. This Jesus God raised up, and of that we all are witnesses. Being therefore exalted at the right hand of God, and having received from the Father the promise of the Holy Spirit, he has poured out this which you see and hear. For David did not ascend into the heavens; but he himself says,


'The Lord said to my Lord, Sit at my right hand,
till I make thy enemies a stool for thy feet.'

Let all the house of Israel therefore know assuredly that God has made him both Lord and Christ, this Jesus whom you crucified."(Acts 2:29-36)
Verses 3-4 are used throughout the Christmas season and are also the prokeimenon for the service commemorating a prophet. They attest to the Jewish belief, taken up in early Christianity, that David wrote this psalm in honor of the Messiah. Like Melchizedek and all Israel's early kings the Messiah will also be a priest (2 Sam 8:18, 1 Kings 3:4), and in this psalm the Messiah is invited to ascend God's throne. After their experience of the Resurrection, Ascension and Pentecost the disciples took this further and understood that Jesus is not only the Messiah priest-king, but is the pre-existent Word of God who was with God from eternity, even "before the morning star."
* * *
If you're curious, Psalm 110:1 is quoted in the following NT passages:
Matt 22:44, 26:64
Mk 12:36, 14:62
Lk 20:42-43, 22:69
Acts 2:34-35
Heb 1:13, 5:6, 7, 17, 21.
Besides direct quotations, there are also many indirect allusions to Psalm 110:1:
Mk 11:19
Ro 8:34
1 Cor 15:25
Eph 1:20
Col 3:1
Heb 1:3, 8:1, 10:12, 11:13, 12:2.
This gives some idea of how deeply the NT writers were steeped in the OT scriptures.