Father Thomas Hopko: Memory Eternal!
Therefore, since we are surrounded by so great a cloud of witnesses, let us also lay aside every weight, and sin which clings so closely, and let us run with perseverance the race that is set before us… (Hebrews 12:1)
I don't have words to properly express my thoughts, feelings and gratitude for the days surrounding Father Thomas Hopko's repose and funeral. All of it reminded me that we are the Body of Christ and members of one another. We need each other to bear one another's burdens and to share our joys. And we are all surrounded by a cloud of witnesses.
Father Tom is one of the vivid witnesses in my life of what it means to be a priest. Mother Christophora, in her words of thanks on the eve of Father Tom's funeral, gave voice to my own feelings. His penetrating homilies and teaching. His prayerful, joyful, careful, and reverent celebration of the divine services. His deep respect for Church order. His love and respect for all. His prayers of intercession for countless people. His humility. And "for being a whole and undivided person. An honest person, speaking the truth in love, gentle when speaking to someone and about someone. For being no liar, no busybody."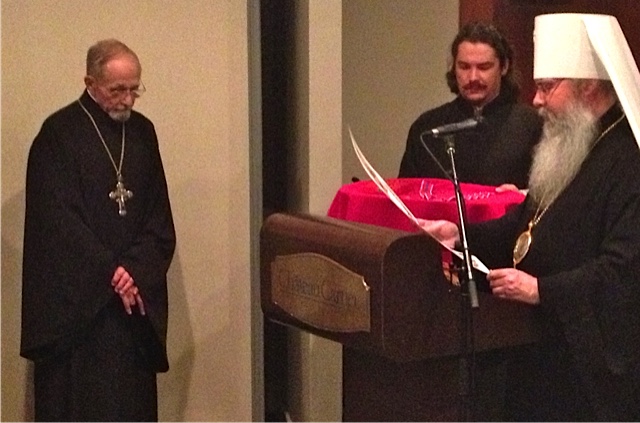 Two years ago—50 years to the day from Father Tom's ordination to the priesthood on Aug 24, 1963—I had the privilege of being present in Ottawa during the Assembly of the Archdiocese of Canada when Metropolitan Tikhon awarded Father Tom the Order of Saint Innocent Gold Medal for a lifetime of extraordinary service to the Orthodox Church. Here is Father Tom's response.
We all know that Saint Innocent, when he was dying, told the bishop who was going to preach at his funeral, "Please speak on this line from Psalm 37, 'The steps of a man are ordered by the Lord, who delights in the way he should go, and though he fall down, he will never be cast headlong, for the Lord is the stay on his right hand'" (Psalm 36/37: 23-24.) I really do believe from even before I was born that my steps were ordered. I quote my mother a lot, and when I went to the seminary she told me, don't forget where you come from, don't put on airs, and if you're going to do this, then for God's sake do it right…

There's one more thing I really must say. The Lord in Saint Luke's Gospel says, beware when people praise you, when they honor you, beware, because they also honor the false prophets of old [Luke 6:26]. So beware, be scared.

But in fact there's something much more scary for me: that I would be worthy of your love. There's a story about Metropolitan Evlogy in Europe that when he was awarded some kind of honor he said, "I believe this award is not so much honoris causa as amoris causa…I take this day as an act of your kindness, your generosity, your friendship, and most of all your love. I would ask you to pray for me, for Anya, for our children. And I would only ask your prayers that we would be worthy of what has been given to us.
Memory eternal!