Glorification of St Tikhon (1865-1925), Patriarch of Moscow and All Russia, Enlightener of North America (1989)
Patriarch Tikhon served the North American Church from 1898 until 1907 as a tireless missionary bishop, criss-crossing Canada and the United States to establish parishes and encourage the clergy and laity of the multi-ethnic Church over which he presided. Ten years after his return to Russia, as newly elected Patriarch in 1917, he went on to face the terrible ordeal of the Bolshevik revolution. This brought in its wake not only persecution and destruction, but the devastating internal turmoil of the Living Church schism as leading clergy and bishops sided with the Communist government in the vain hope that this would preserve the Church and at the same time bring about needed reforms. The faithful remained overwhelmingly true to Patriarch Tikhon, who died on April 7, 1927, the feast of the Annunciation (old calendar).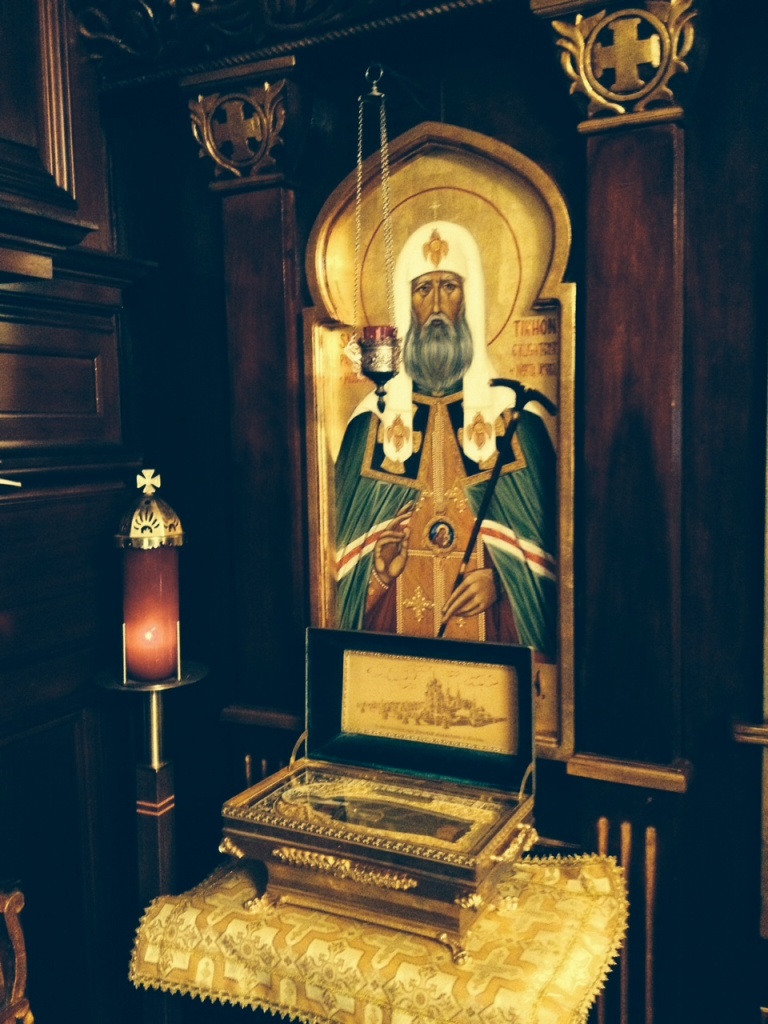 Saint Tikhon was an inspiring bishop who by God's grace combined in himself visionary leader, man of action, team builder and humble pastor—all in the service of Christ and His Church. Here is an excerpt from the speech he gave to his American clergy at a farewell luncheon held in March 1907.
In some matters I initiated things, inspired you, and you in turn went out to bring my ideas to life; in other matters, on the contrary, you suggested the thought to me—and I am not ashamed to admit this – and I found the ways and means to realize your idea in practice. I appealed to you for common work from the very beginning, in my first address to you in the cathedral in San Francisco, and my appeal was not made in vain; if something has been accomplished here, it was not I alone who accomplished it, but we accomplished it together. It is evident that the Lord God helped us. Many times I have told you that the more I study the history of the Orthodox Church in this land, the more convinced I become that our task here is God's task, that God Himself helps us. Precisely when it appears that everything is just about to collapse, our Orthodox Russian mission, instead of dying, rises up in in new strength and brilliance.

From the very beginning I allowed great initiative to my co-workers. Just so long as the work got done, the question of initiated it, I or someone else, did not seem important to me. And the results of this soon became apparent: the number of parishes increased, new churches were built, the number of parishioners grew, new institutions were established. On the other hand, I cannot be accused of impetuousness and impatience. On the contrary, when some thought that a given project should be dropped, or disciplinary measures taken, I did not depart from meekness and patience, preferring to wait because of fear of quenching a smoldering wick or breaking a bruised reed (cf. Matthew 12: 18-21, Isaiah 42:1-4): who knows how many persons and projects were preserved in this way….but in order not to praise myself, it is better for me to speak now about my infirmities…..
Saint Tikhon's final sermon, on Forgiveness Sunday in 1907 at Saint Nicholas Cathedral in New York (recently damaged in a fire), underlines his conviction that the missionary task belongs to all.
…Orthodox people must care for the dissemination of the Orthodox faith among the heterodox. Christ the Savior said that men lighting a lamp do not put it under a bushel, but on a stand, and it gives light to all the house (Matthew 5:15). It is our obligation to share our spiritual treasures, our truth, our light and our joy with those who do not have these gifts. And this duty lies not only on pastors and missionaries, but also on lay people, for the Church of Christ, in the wise comparison of St. Paul, is a body, and in the life of the body every member takes part.

For each of us the dissemination of the Christian faith must be a favorite task, close to our hearts and precious to us; in this task each member of the Church must take an active part – some by personal missionary effort, some by monetary support and service to the "needs of the saints," and some by prayer to the Lord that He might "establish and increase His Church," and that He might "reveal to them the gospel of righteousness, unite them to His holy, catholic and apostolic Church."
Through the prayers of Saint Tikhon, may this vision continue to inspire, guide and ignite us in the 21st century.
* * *
Today is Metropolitan Tikhon's nameday, and yesterday was the anniversary of his ordination to the priesthood in 1995 at Saint Tikhon's Monastery. Axios! May God grant him many blessed years!
His Beatitude is now at Saint Tikhon's Monastery to celebrate the feast and will stay in South Canaan to preside at the Seminary's 75th anniversary events tomorrow and the Seminary Board meeting on Friday.