Saved by His life
"For if while we were enemies we were reconciled to God by the death of his Son, much more, now that we are reconciled, shall we be saved by his life" (Rom 5:10). St Paul never knew the pre-resurrected Jesus. And in his writings he makes almost no reference to Jesus' earthly life, ministry and teaching—a fact that has been much commented upon. So what does he mean when he says, "saved by his life?" St Paul viewed Jesus through the lens of his life-changing encounter with the crucified Lord, so when he speaks of the "life" of Jesus, it is the self-emptying, crucified—but then glorified—Jesus that he takes as the redeeming pattern for his own life. He tells the Corinthians that he has little interest in their partisan debates because "I decided to know nothing among you except Jesus Christ and him crucified" (1 Cor 2:2). "Be imitators of me, as I am of Christ" (1 Cor 11:1). "It is no longer I who live, but Christ who lives in me" (Gal 2:20). He urges the Philippians to follow the same pattern they see in Christ "who emptied himself, taking the form of a servant…"(Phil 2:7).
The servant is not greater than his master. Following Christ is a guarantee that all kinds of inner and outer storms will also be encountered. The gospel story of the ship in the storm was understood as a parable of church life (the ship is an ancient symbol of the church, the ark of salvation). Cultivating awareness of Christ's presence brings inner liberation from anxieties, fears and desperation, even in the midst of turmoil and temptation.
Fr Eric Tosi in Chicago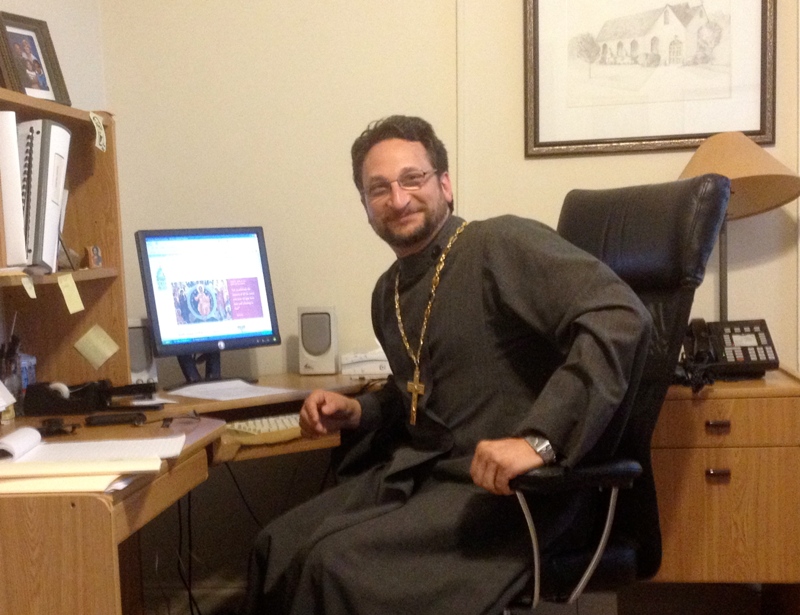 While His Beatitude, Metropolitan Jonah is on his way to England (see the story here), Fr Eric Tosi will be on his way to Chicago to meet with one of the committees of the Assembly of Canonical Orthodox Bishops [By the way, the website has an interview with Archbishop Nikon, of the OCA's New England and Albanian Dioceses].
This may surprise many of you, but the committees of the Assembly of Bishops aren't just made up of bishops. They include priests, deacons and laity as well. Fr Eric is an advisor to the Committee on Clergy Affairs (chaired by Metropolitan Joseph of the Patriarchate of Bulgaria), which will meet at St Sophia Bulgarian Orthodox Church in Des Plains today and tomorrow. They have been compiling a master list of clergy and collecting jurisdictional policies and procedures on ordinations, clergy compensation, benefits, awards and discipline. So far everything has been done by email and conference calls, and this will be the first face-to-face meeting.

Then he will be attending the annual meeting of the American Society of Missiology in Chicago and co-presenting a paper with Dr. Charles Fensham (Professor of Missiology at Knox College, University of Toronto) entitled "Not So Far West: Taking the 'Mission' Out of Missiology. " He discusses the use of the term "mission" and its negative connotations in the West and argues for an Orthodox perspective. This is a major scholarly conference that will have representatives from universities and seminaries across North America. Fr Eric is completing Doctor of Ministry studies in evangelism and the Orthodox Church at the University of Toronto's Trinity College.
* * *
I was ordained a deacon on this day in 1981 at Holy Protection Cathedral in New York by the late Archbishop Peter (L'Huillier). May his memory be eternal!