Tribalism and Retaliation
Today we have Scripture passages that challenge two basic assumptions: tribalism (Romans 2:14-29) and retaliation (Matthew 5:33-41). The radical Christian way that is "not of this world" rejects both of these.
Assumption 1 is that my tribe (or ethnic group, religion, church) is better than your tribe because God has chosen us. As St John the Baptist said, "do not presume to say to yourselves, 'We have Abraham as our father'; for I tell you, God is able from these stones to raise up children to Abraham" (Matt 3:9). Tribalism gives us the fragmented and hostile world we accept as normal. But that's a fallen normal that goes back to the Tower of Babel (Genesis 11:1-9). Every human being is a chosen child of God, and Pentecost calls us to restore that brotherhood: "When the Most High came down and confused the tongues He divided the nations, but when He distributed the tongues of fire he called all to unity. Therefore with one voice we glorify the all-holy Spirit!" Paul too is reminding his Jewish readers that anyone can be God's beloved child, because He looks on the heart and not outward signs. We Orthodox would do well to heed this message too. Try reading the Romans passage with the words Orthodox and non-Orthodox instead of Jew and Gentile.
Assumption 2 is that when I am mistreated I have the right to retaliate. I won't get into a debate right now over pacifism and the legitimacy of police and military forces. But I do want to underline how uncomfortable it is to consider Jesus' words in the Sermon on the Mount as practical directions for living. We need to think of the worst evil that might be inflicted on us and put next to it the words "turn the other cheek." We need to let the discomfort and inner rebellion against this settle in if we want to appreciate the unreasonable demands of Jesus' teaching.
Winnipeg: Priests Talk About Parish Life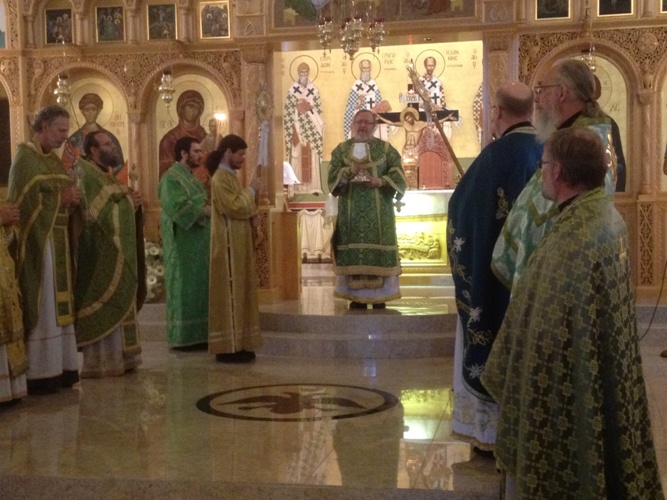 The last day of the Canadian Clergy Synaxis began at 7 a.m. with a hierarchical divine liturgy led by Bishop Irénée at St Demetrios Greek Orthodox Church (an interesting tidbit: the author of My Big Fat Greek Wedding comes from this parish). As the final session, the Archdiocesan Chancellor, Fr Alexander Pihach, underlined the importance of clergy friendships in avoiding the dangers of isolation. Each priest was asked to speak about his own parish experience, both positive and negative, and this produced an illuminating catalogue that varied widely from place to place and person to person.
On the negative side: too little parking and an overcrowded church keeps people away, but the parish doesn't have the money yet for a larger space. The pace of life takes people away from parish commitments. Low level of Christian education. 20-somethings have little sense of Christian outlook shaping their behavior. Congregationalism. Flat or slow growth after years of work. Lack of parish funds, little attention to clergy compensation guidelines. Balancing secular employment with priestly ministry. Competing liturgical "tastes." Health issues of priest.
The overall tone was positive, however. Russian immigrants starting to come to services in response to a monthly Slavonic liturgy and the church being open during the day. A study group is flourishing for the first time. Good attendance and vespers and evening liturgies (not so much at vigil and weekday liturgies). Small but dedicated core group. New people, with a third of the parish under the age of 10. Good response to teaching children, telling stories during the liturgy as adults listen in. People who left over the years are coming back. Good relations with other Orthodox priests. Mission and outreach discussed at every parish council meeting. Joining with other Christian communities to build a Habitat for Humanity house.
* * *
Back in Syosset now and grateful for the opportunity to connect with the clergy of Canada. Next instalment of "Chancellor's Diary" will be on Tuesday, June 12. Hope you have a blessed All Saints weekend.