by Father Theodore Boback, Jr.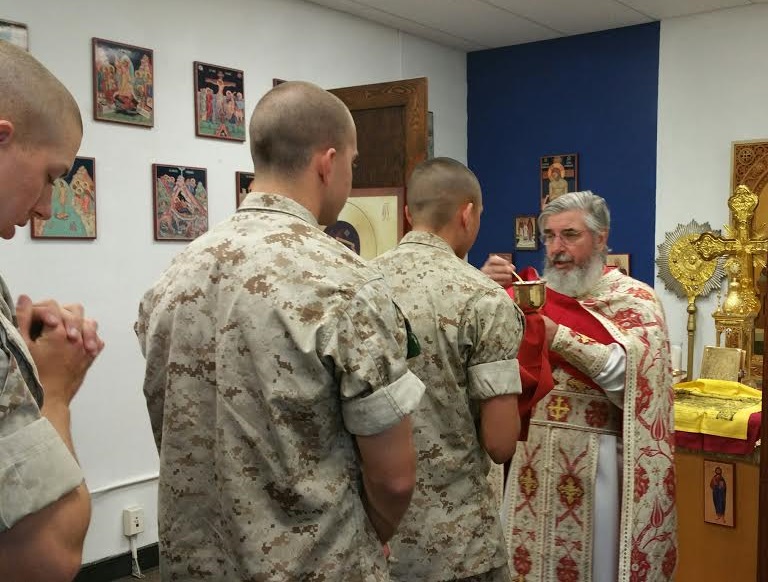 On Sunday, November 11, 2018, we will gather in our churches for the Divine Liturgy as our nation celebrates Veterans Day. This year marks the centenary observance of the end of World War I, the "war to end all wars," as the armistice came into effect on the 11th day of the 11th month at the 11th hour. Americans have observed a century of celebration, first as Armistice Day and now as Veterans Day, while Canadians celebrate Remembrance Day.
On this day, we will see and hear the many tributes offered to our veterans. Some will take place in our cities and towns throughout our nations, in our schools and the communities in which we live, and in our churches. We give thanks to God for their service in support of the freedoms that we have—among them, the free exercise of religion.
As Orthodox Christians in North America, we call to remembrance all those who have served our nations in war and peace. During World War I, Protopresbyter John Ovsianitsky served as the first North American Orthodox Military Chaplain with the Canadian Armed Forces. And, we also celebrate this month the 75th Anniversary of the appointment of the first Orthodox Military Chaplain, Archpriest Vladimir Borichevsky, who served in the United States Armed Forces. Father Vladimir was appointed to the US Army on October 13, 1943 and reported for temporary active duty at the Chaplain School at Harvard University, Cambridge, MA, on November 6 of the same year. Upon completion of the Chaplain School, he received further orders to report to his next duty assignment in California on December 14, 1943.
Among the other Orthodox priests who served and provided ministry during World War II in the US Army were Archpriests Michael Kovach and John Kivko and, in the US Navy, Archpriest Alexander Seniavsky.
During the various wars and conflicts, many of the sons and daughters of our nation have served and have made the ultimate sacrifice. Others returned with visible and invisible wounds of war—some with post traumatic stress disorder or moral injury, and others in need of physical, psychological spiritual care.
"For no greater love as there than to give one's life for a friend" [John 13:15]. As the Orthodox military and VAMC chaplains journey in their ministries, they share unconditionally in the life of service members or veterans. Their faith, trust and hope operate through love—for God and those to whom they minister. They are dedicated as examples of love to others and they have respect and concern for all entrusted to their pastoral care. They bring God to the service members or veteran, and they bring the service members or veteran to God.
We are thankful for the service of our sons and daughters through the years, to the first Orthodox priest serving in World War I, the first Orthodox priests serving in our US Armed Forces in World War II, and to all those who have served and continue to serve today. Many changes have occurred during the past 100 years and in recent months. We need to ensure that the ongoing Orthodox leadership role and presence in all aspects of chaplaincy continue today. As we celebrate the 100th Anniversary of Veterans Day in the United States of America and Remembrance Day in Canada, as well as the 75th anniversary of the first Orthodox priest to serve in the US Armed Forces, let each of us take time to share and reflect upon the unique, significant, and awesome stories we may have experienced as veterans, or those of family members or friends. Let us ask God to continue to grant His grace and blessings upon our veterans, our service members and our Orthodox chaplains and their families. And to our veterans and our Orthodox chaplains who have departed this life, may God grant rest eternal in His Heavenly Kingdom. Memory eternal!
On this Sunday, November 11, let us gather in our corporate worship to lift up our hearts and offer our prayers for those who serve and have served in our military. On this special day, let us remember with thanksgiving our family members and friends, our sons and daughters, the Orthodox priests who voluntarily serve in the armed forces and their families, and our Veterans Affairs Medical Center chaplains, all of whom provide the seamless transition of ministry to our veterans and their families.
---
Father Theodore Boback is a Chaplain, Lieutenant Colonel, USA-Retired; Dean and Executive Director of Orthodox Military and Veterans Administration Chaplains; and Rector of Saint Andrew Church, Baltimore, MD.