Gateway Ministries and the Garment of Salvation: An Interview with Paul Finley
By Fr. Jonathan Lincoln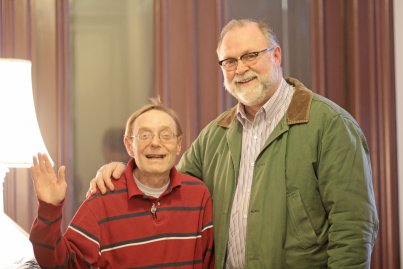 Paul Finley is the Director of St. Herman House of Hospitality - FOCUS Cleveland, a local Center of FOCUS North America. On June 12th, 2018, I had an opportunity to sit down with him to discuss the significance of the acronym FOCUS in St. Herman House's mission to the poor and homeless of Cleveland's Ohio City neighborhood.




What does the acronym FOCUS stand for? And how does it describe the various ministries and services that St. Herman House provides for the community?
"FOCUS is a double acronym: it tells you who we are and what we do. 'Who we are' is the Fellowship of Orthodox Christians United to Serve, and 'what we do' is Food, Occupation, Clothing, Understanding, and Shelter," Paul explained.
Food
"Food is a gateway ministry for anybody that's trying to help people in need. If you offer a meal then people will come, and you get a chance to meet them. And food is a very basic way to do that." St. Herman House serves three meals a day, 365 days a year; last year, residents and volunteers served 81,773 meals and distributed 1,669 grocery bags to 435 families.
Paul added, "We don't even count a lot of what we do in that regard, such as loaves of bread taken by meal guests from the bread pantry and the number of people who knock on the door outside of meal times asking for a sandwich."
Occupation
"Not all, but many of the men we serve are looking for gainful employment. We address that in two ways: one, through directing them to case management to see what their capabilities are. It may well be that they have mental health issues, physical health issues, addiction issues, or educational issues that have to be addressed (we have two residents who are working on getting their GED). It may be that they just need assistance writing a resume. Many of them must overcome criminal backgrounds, which makes them almost unemployable in the eyes of many."

"Secondly, we have our own Jobs Program in place: if a resident has lived here thirty days, can pass a drug test, he may be given an opportunity to become an employee of St. Herman House - FOCUS Cleveland, and we can send him out for janitorial work, landscaping work, working at festivals, all through our network of Orthodox churches, who have been very willing to let men who may have a difficult past have an opportunity to work. This restores in some way the belief that they really can work, that they really can make money, and hopefully will encourage them to seek something more permanent."
Clothing
"Clothing is part and parcel with those 'gateway-type ministries' that a nonprofit organization can do on a large scale, or that any parish can do. Any parish can have a food pantry and a clothing closet, which creates an opportunity to be a witness to the Faith, to meet people, to establish relationships with them."
Approximately 700 men visit the clothing ministry each year, which though open year-round, is most active during the winter, when it distributes many coats, hats, gloves, scarves, for men, women, and children."
Understanding
"Understanding is where we pivot to the uniquely Orthodox nature of what we do: we believe that everybody is created in the image of God, that everybody has value. Maya Angelou said, 'People will forget what you said, people will forget what you did, but people will never forget how you made them feel.'"
"We do the best we can for the broken people who come here for help, but we do try to make people feel that they have value, worth, dignity, that they're important in the eyes of God. And if they remember that they were treated that way by somebody that is an Orthodox Christian, it may be an opportunity for them someday to look more deeply into our faith."
Shelter
"We shelter twenty-eight homeless men in our Emergency Shelter, which is the main property of St. Herman's. We also have twelve men in our Transitional House. To live there, residents must have six months of sobriety, have an income, and be working with a case manager to find a
permanent housing solution. So at any given time, we have forty men in residence in both houses combined. "
"At least half of our programming for the men is to get them involved in helping us deliver the services that we provide: food, clothing, and shelter. Residents serve meals, run our clothing closet, answer the phones, organize our Jobs Program, and even do the laundry."
"The other half of the program is directing residents to local agencies to get help they need: whether it is something to address their mental health, physical health, skill sets, education, getting a job, or housing. The residents need direction, and they really need a place like St. Herman House where they can be stable enough to get that help."
"I've often said that it's hard to help a moving target. For us, a moving target is a guy who is on the street, moving around, and his phone is off half the time because either it was lost, or broken, or he can't pay for minutes. For this person, it can be very hard for him to keep up with case management, go to work, or get in a place where he has some stability, where he's not moving around. Just having some stability increases the opportunity to move forward and make progress."
"We're also developing Spruce Farm, which I would include under the 'S' of Shelter, because it will be a residential recovery program, a 'residential recovery ranch,' if you will. We've developed an apiary that has twenty-one beehives, all maintained by volunteers and residents of the shelter. We've just hired an architect who's helping us come up with a plan to build the infrastructure we'll need to house the program, and then we'll engage other agencies to help us run the program."
"I'm very excited about Spruce Farm, that we've stuck with that property, and that we continue to believe in our vision. One day it really will come to fruition."
A Tripod Provides Stability
"I like to describe St. Herman's - FOCUS Cleveland as a tripod. A tripod is used to stabilize something; you can stabilize, for example, a camera, on a very uneven, unleveled surface. A tripod will give you a clear picture; it brings an image into focus."
"So, the three legs of the ministry at St. Herman's are the Emergency Shelter, the Transitional House, and hopefully one day soon, the recovery ranch. These three things will create multiple opportunities for an individual to bring his life into focus, and to see new possibilities for his life that he's been unable to see before because the ground he's been on has been so uncertain."
The Goal / Telos of Service
"If all we ever give somebody is a clean change of clothing and a meal, then I'm happy-then I feel like we're fulfilling what Christ asked us to do. But if we can discern what they need in terms of spiritual clothing, and by that I mean the garment of salvation-Baptism, being received into the Church, or get them to see that they need spiritual food and drink-the Eucharist, the Body and Blood of Christ-that would be a truly great thing."
"When we look at the Scriptures, it's clear that everything Jesus did materially, as in the story of the paralytic, would be so that they know that He has the power to forgive sins (Matthew 9:6), which is the beginning of salvation, it's the beginning of the restoration to a relationship with God, the Father, Son, and Holy Spirit. So as a part of that, we have a regular cycle of prayer, teaching, our weekly Bible study, and a limited cycle of Sunday worship with the office of Typica."
"People voluntarily come here for food, and they voluntarily come here for spiritual food; we don't make anybody come to the services. But there are always men at the services who are seeking something more."
The Cost of Service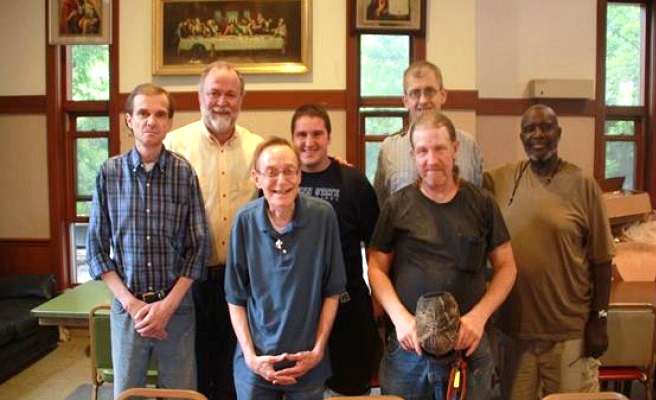 "Jesus said that one should give expecting nothing in return. And one thing I've learned about this passage, and from five and a half years at St. Herman's, is that nothing means nothing. Don't expect gratitude, don't expect appreciation, don't expect praise, don't expect that you're going to spend a whole lot of time and energy on an individual and that it will necessarily be successful. If you expect anything in return, you'll give up."
"It's wearying enough not expecting anything in return, you have to help a lot of people to see a lot of growth in one. You might have to help hundreds to see even one progress to independence, and maybe even more than that to see one convert to Orthodox Christianity. So, the numbers don't favor high expectations, yet Jesus says to give with no expectations."

"Helping people is costly: it costs time and money. One of the reasons why we don't do really well developing a culture of giving and service in our churches is because we're not willing to pay the price; and if we do pay the price, we're not willing to pay the price with no expectations. So Jesus asks a lot, but He doesn't ask anything that He didn't do Himself!"
About St. Herman House of Hospitality
FOCUS Cleveland

St. Herman House has been in continuous service to Cleveland since 1977. "The good works begun by the St. Herman of Alaska Monastery transitioned into continued good works through the leadership of FOCUS North America, and the support of the local Orthodox community in Northeast Ohio," Paul remarked.
In 2013, the St. Herman House Board voted to transfer all property ownership of the mission to FOCUS North America, a national Orthodox nonprofit established to serve the poor and the vulnerable in North America. Under the auspices of FOCUS North America, crucial stability was restored to St. Herman House's long-standing mission. As a local Center of FOCUS North America, St. Herman House benefits from the vision, leadership, accounting and administrative services of FOCUS' national office.
The Greater Cleveland Food Bank named St. Herman House one of its most efficiently-run partner organizations, which is largely due to the nature of St. Herman House being almost entirely volunteer-run. Volunteers from area Orthodox, Catholic, and Protestant churches, as well as synagogues and businesses, cook and serve meals daily. In addition, St. Herman House regularly receives donations of food, clothing, and maintenance work.
St. Herman House could not exist without the support it regularly receives in many ways from local Orthodox Churches, especially. The ministries here are an encouraging example of pan-Orthodox cooperation, in which jurisdictions come together to serve the poor and homeless, according to Our Lord's commandments.