Prison Ministry
By Deacon Peter Baktis
A Way To Reach Out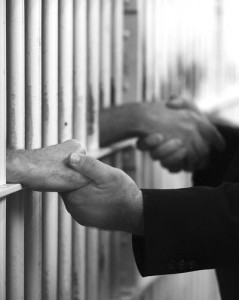 Today we are faced with what would seem to many as an insurmountable problem: incarceration; there is no room in our prisons for those who have been convicted of crimes. Some say the problem is easily solved by building new prisons, or even by taking life i.e. the many executions beginning with Gary Gilmore, in Utah, January 1, 1977 and recently Velma Barfield in North Carolina on November 2, 1984. Are these above solutions our only answers? Are they synonymous with the cry found in the words of the Gospel of Matthew: "I was in prison, and you visited me"? (Matthew 25:36)
Having an acquaintance with the vast complexities of our so-called correctional system in doing "prison ministry" I have found that there are many ways in which we as Christians can take part in the process of correctional reforms. This article will not analyze the various elements that make up the correctional institution, but rather the opportunity we have to serve those in this kind of institution.
When I began to make visits to Rikers Island, I was at first overwhelmed by the fact that when I entered the center of the prison, doors were locked behind me. The only way out was to prove by a photo 1. D. that I was a worker and not an inmate. This reality never left me.
Among other realities I faced were the coping devices inmates develop in order to exist within the prison (i.e., language, system of ethics, etc.). My function at Rikers Island was to make contact with Orthodox inmates and to see if there was a "religious need" that was not met. This led to the first Orthodox Liturgy to be held in the adolescent detention center on Rikers Island. The beginning of this ministry was difficult primarily because the Orthodox population of the prison very seldom indicated their religious affiliation. Once we located one or two Orthodox Christians, they brought us names and people whom they knew were Orthodox.
Types of Ministry
A main concern of mine was what those whom I visited would do once they got out. Many of the inmates were far below the national average reading level. Therefore my ministry expanded and I began to tutor English to those who were willing to admit their need, and wanted to learn. The program that I found useful was to help those who needed to obtain a high school equivalency diploma acquire the skills to pass the test. Others needed help only to learn how to fill out forms, or to read the newspaper.
I also got involved with inmates' families. Some families cannot visit very often. There are problems with phone contact which increase the feelings of fear on the part of those who have loved ones in prison. These factors contribute to feelings of isolation. This area of involvement takes a great amount of discretion on the volunteer's part, because you may open yourself to abuse with phone calls at 4 am, over-dependence, and so on. This ministry calls for a well-established relationship with the inmate, one in which you share trust and understanding. One of the major fears of an inmate is complete separation from the outside world. Knowing that I could walk in both worlds make this death-like experience less pronounced for me. Yet once you listen to the inmates you can feel deeply the loneliness and isolation inmates experience.
Getting Started
The things I have described are some examples of what we can do if we wish to become witnesses of Christ in the prison setting. There are security requirements for those who wish access into prison. Usually church volunteers, through their rectors, can register with the Department of Correction as "prison ministers". Each individual prison has Chaplains paid by the city or state who are coordinators of the religious program. They know the system well, and can be very resourceful in helping you to choose your avenue of witness.
Political Action
The other area, and one which we often forget, is the political. There are many national organizations, including a national association for prison ministry, that work for prison reform, recognizing the complexities of the problem. To be involved in this means we must educate ourselves and others, not only about the present problems, but about the history, law, and economics of prisons. As Christians it is up to us to place this all within the Scripture of the Church and Her Tradition, for the Glory of God. Social reform is not something divorced from the Church, but we must actively make the connection.
If you wish more information about this whole area of ministry, you may write or call the following:
Orthodox Christian Prison Ministry
P.O. Box 468
Fleetwood, PA 19522-0468

Phone: 610-777-1552
Fax: 610-777-2776
.(JavaScript must be enabled to view this email address)
Discussion Questions:
1. How do you or your parish group feel about undertaking a prison ministry? What are your concerns or questions?
2. What correctional facilities are there in your vicinity where you might be able to offer your services?
3. Find out if someone at the nearest correctional facility - a chaplain or staff member - would come out (or invite you there) to talk about opportunities to help out.