Providing Disaster Relief With Gift Of The Heart Kits
By Arlene Kallaur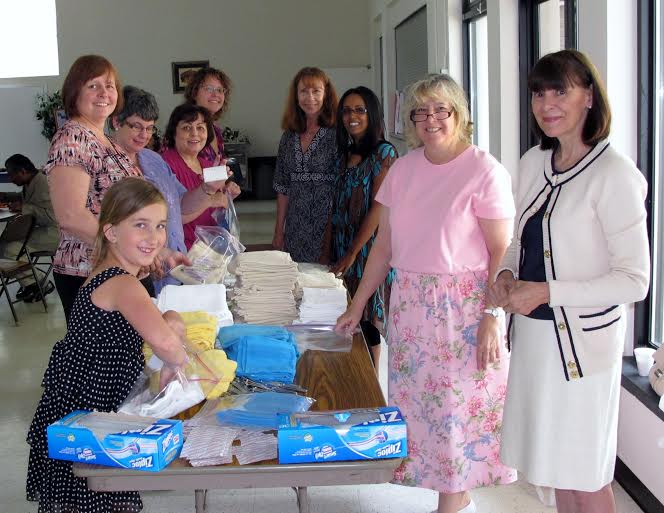 In March of 2000, the Orthodox Church in America Office of Humanitarian Aid invited parishes and individuals to participate in an outreach program, called "Gift of the Heart" Kits. The program involves the assembling of specific kits—health kits, school kits, and layettes—that are sent to victims of disasters in the US and all over the world. An ongoing program, the kits can be assembled at any time during the year. The completed kits are sent to a warehouse in New Windsor, MD where they are stored until a need is identified, and then distributed.
A number of parishes have responded by preparing kits over this past year. Some of them shared with me their experiences.
St. Nicholas Parish, Norwich, CT
Marlene Melesko, Church School Director of the Parish, and Paul Giovanni, one of the teachers, reported that the students assembled 15 clean up kits and 40 health kits in June, 2000. While it was a Church School Project, the whole parish pitched in. Fr. Rhodes spoke to the parish about the merits of the project and what a good opportunity it was to reach out and have a hand in helping others, especially in faraway places.
Marlene describes as follows their process for preparing the kits: We put the name of each item needed for the kits on slips of paper and let the parishioners pick which ones and how many items they wanted to purchase. After all the items were collected, we purchased "fill-in" items to make complete kits by using money collected by one of the children at the back of the church after the Divine Liturgy. Then on a Sunday after the service, the whole parish formed an assembly line, with each person walking along the table picking up one of each item until all the items were used up. Paul and a couple of other men packed the kits in 2 large boxes that they purchased at Staples and sent them off.
This system takes about 5 weeks: 1 to discuss which kits, how many, to make up the slips and distribute them, 2 weeks for everyone to bring in their items, 1 week to purchase items to make complete kits, and then assembling them on the fifth Sunday.
This year we decided to do school kits and layette kits. Sunday we passed around 2 baskets at coffee hour, each with slips of paper for 25 of each item. One Sunday a month we have a special collection to donate money to a worthy cause. This month's collection will cover the shipping and transport donation costs of the kits. Our assembly line date is June 24th. The parishioners seem very excited about doing it again this year.
St. Michael's Parish, Broadview Hts., OH
Fr. John Memorich engaged in the project with campers at St. Vladimir's Camp, Greenacre, OH during the summer. Some 86 campers in two sessions made up 100 health kits. Each camper was notified ahead of time to bring to the camp the materials for one health kit. At the camp together they packaged the kits. Fr. John said that the campers felt good about doing it. "Their faith came alive, knowing that they were helping others. It was significant to them that their help went beyond those they knew, extending to anyone in the world who needed help."
Back at St. Michael's Parish, Paula Herzak, coordinator, reported that the Sr. and Jr. FOCA Chapters took on the kits as a Lenten project, again having each person bring the materials to make up one kit. Additional items were bought with funds from the FOCA treasury and from some parishioner donations. Some 125 kits were assembled at their monthly meetings. Again the FOCA treasury funded the shipping cost and the transportation donation to get the kits to their final destination.
St. Mary's Cathedral, Minneapolis, MN
The St. Mary's Cathedral Parish made up kits in its 3rd Grade Church School Class and at its Vacation Bible School, according to Heidi Kroll. The 3rd Grade Class assembled 10 school kits as their Lenten Service Project. "They liked the collecting and assembling," Heidi reports, "and they could relate to the need for school supplies." The Vacation Bible School always undertakes two mission projects, one local and one reaching globally. Last summer they made up and sent 12 health kits, and they plan to do it again.
Heidi noted that it would be helpful to estimate the shipping fees and transportation donation costs and present them as part of the project initially so that plans can be made for covering the costs by group effort, rather than to have the cost fall to the teacher or coordinator in charge.
"The families and children that participated could really understand that they were sending necessities to someone who needed them." Heidi remembers making up these kits herself as a child.
St. Barbara Mission, Ft. Worth, TX
"The whole parish is excited about this project," reports Mat. Christine Zebrun, Church School Coordinator. Though it is spearheaded by the Church School, the adults as well find it meaningful to know that they are reaching beyond their own mission. The Church School finds it easiest to do in the slower months and has targeted June for their first participation.
Fr. Basil Zebrun first explained to his parishioners that the kits are needed for people recovering from catastrophes who possibly have lost all of their possessions. Church School teacher, Lynn Powers, followed up with a presentation, using six of the students under eleven years of age who unwrapped a sample health kit, each holding up and modeling the items it included. Lynn then put up a large poster board she had made. It had pockets on it, one for each item. In each pocket were 25 index cards with that item written on each one. Students and parishioners have been encouraged to take as many cards as they can and purchase those items. Items are dropped in a huge box that is provided.
On Sunday, June 10th, an "End of Church School" Party will be held, and at that time the students will assemble and wrap up the kits. Money for shipping and transport will be solicited from the parishioners. The Church School is hopeful of putting together 25 health kits. They see this as an ongoing program, and hope to do it again in late summer/early fall.
St. John the Baptist, Warren, OH
According to Betty Pereshka, project coordinator, "our parish is completely committed to this project." Fr. Pawlack spoke about it at the annual parish meeting and announced it in the church bulletin, describing the items needed. A big box was placed in the church hall to receive the items purchased.
The youths of the parish then took over. The parish observes Youth Sunday on the first Sunday of each month. On one such Sunday, after the Divine Liturgy and a luncheon for the young people, they formed an assembly line and made up the kits. They chose to do school kits, but more recently have made up sewing kits and health kits.
Holy Trinity, New Britain, CT
"The experience of putting the kits together was a very positive one at our parish," stated Rosemary Delaney, project coordinator. "We liked reaching out beyond our own little circle, and the children have studied in school about the countries where some of the kits have been sent."
The Church School and the Sisterhood worked on the project jointly, producing both school kits and sewing kits. The ladies in the parish decided that they, themselves, would sew the tote bags asked for in the school kit. "We had a good response. This will be an ongoing undertaking for us," Rosemary concluded.
St. Herman of Alaska, Gradyville, PA
Their Church School made up 16 health kits. "We will definitely do this again and we'll strive for at least twice as much," reported Mrs. Suzanne Hammerer, Church School Coordinator.
The gathering of these kits is an ongoing program of Church World Service (CWS), a humanitarian aid organization in which the Orthodox Church in America has had membership since its formation in 1946. International Orthodox Christian Charities (IOCC), the humanitarian aid organization under the Assembly of Canonical Orthodox Bishops of North America, works together with Church World Service to promote and distribute the CWS Gift of the Heart Kits through its national and worldwide outreach. It urges support for the Kit program from Orthodox parishes. For those who want to be involved in hands-on projects, in addition to donations, the CWS "Gift of the Heart" Kits project is one way to join with fellow Christians to extend a helping hand.
The mechanism is in place for us to use. Whenever a disaster strikes or a community is in need somewhere in the world, we'll have the satisfaction of knowing that our kits will be there to help. Instructions on content and mailing of kits can be found at www.cwsglobal.org/get-involved/kits and on the IOCC website at www.iocc.org/kits.
For further information or questions regarding the program you can contact the OCA Department of Christian Service and Humanitarian Aid at .(JavaScript must be enabled to view this email address) or Arlene Kallaur at .(JavaScript must be enabled to view this email address), 516:942-7841.